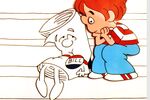 In August last year, I went to the annual meeting of the American Legislative Exchange Council in New Orleans. If you're not familiar with ALEC, which quickly went from being an obscure organization to one now making headlines, this is how we described it in the article that came out of that trip:
"The American Legislative Exchange Council, a nonprofit based in Washington, brings together state legislators, companies, and advocacy groups to shape "model legislation." The legislators then take these models back to their own states. About 1,000 times a year, according to ALEC, a state legislator introduces a bill from its library of more than 800 models. About 200 times a year, one of them becomes law. The council, in essence, makes national policy, state by state."
At the time, I was trying to figure out how an ALEC model bill spreads among the states. On the morning of Aug. 5, I sat down with Raegan Weber, who was then ALEC's spokeswoman; John Stephenson, director for ALEC's telecommunications and information technology task force; and North Dakota State Representative Blair Thoreson, the task force's legislative chairman. I asked how state legislators choose which ALEC model bills to push, given the council's catalogue of 800 models, and ended up going around in circles for a while. Both Weber and Stephenson said several times that the model bills are a "library service," and Stephenson said that legislators "don't need me to access legislation." Finally, just before we were done, Weber broke in to make something clear. This is what I have from my tape of the interview.
"If you don't mind me, if I can address this from a broader issue, you've touched on another great example. We have clearly over 800 pieces of model legislation, and they're all there. John, me, my other, the rest of the ALEC staff, even the ALEC board, we don't know who's reaching in and grabbing what. It's a library service to members, should they choose to want to use it. … And they use it, and they don't even tell us, and they may not go on the floor and say this is ALEC legislation, they have to go through, you know, what, the bill becomes theirs, so we have no idea."
But now it looks like ALEC did have an idea, it did know who was reaching in and grabbing what, and it knew this in detail. On Monday, Common Cause, an advocacy group for sunlight and government accountability, filed a whistleblower complaint to the IRS, arguing that ALEC lobbies for corporations and thus has violated its 501(c)(3) tax-exempt status as a charity. In a response, a lawyer for ALEC said that the complaint "mostly ignores applicable law and distorts what it does not ignore." As part of the complaint, however, Common Cause released a number of documents it pulled from state legislators through FOIA requests. If you're interested in ALEC, they make great reading, particularly minutes of task force meetings for the past two years. These meetings are closed to the press and the public.
The document release includes an internal ALEC spreadsheet labeled "ALEC State Tracking: Good Legal Reform Bills." The spreadsheet details every ALEC model bill on legal reform proposed in a state legislature for the 2011 legislative session: state, sponsor, current status—10 fields in total for each bill. The spreadsheet is color-coded to show whether the bill has been vetoed and whether there's been any movement since the last report. And it not only tracks each bill's number and name; it also includes a field titled "Related ALEC Model Bill."
I e-mailed ALEC's new spokesperson Friday to ask how extensively and for how long the council has been tracking its model bills, since the spreadsheet seemed to directly contradict what the group told me last fall. The council responded today with a statement from a lawyer:
"ALEC is no different than other organizations that focus on state policy. The difference is there is a committed effort by extreme liberal front groups to diminish ALEC's effectiveness in supporting free-market solutions in the states. This is a dishonest attack as these groups do not hold other organizations to the same standards. ALEC does not lobby and makes every effort to ensure that its processes are effective and compliant."
ALEC didn't provide an answer to my question. Which leaves me to wonder why the council disavowed any staff knowledge of which of its model bills were moving where. If the council is tracking its bills, it has to get that information from somewhere. The most likely answer is it's getting it from the state legislators—or by carefully watching the progress of its model bills in the states itself. Either way, it seems like the opposite of having "no idea."
Before it's here, it's on the Bloomberg Terminal.
LEARN MORE