Barnes & Noble's Marriage of Necessity With Microsoft
By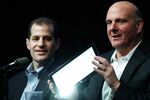 Call it the battle of Seattle.
Bookseller Barnes & Noble on Monday announced that it will spin out its Nook business and that software giant Microsoft will invest $300 million in the new company, setting it up in competition with crosstown technology company Amazon.com. Microsoft will own 17.6 percent of the temporarily named "NewCo," valuing the Nook business—a rare highlight for the struggling bookseller these past few years—at $1.7 billion.
The partners said the investment would allow NewCo to accelerate the introduction of the Nook bookstore in international markets and to give a shot of innovation to the development of new e-ink Nook readers and tablets. "It's going to allow us to really explode the innovation within our reading technology," said William Lynch, chief executive of Barnes & Noble. "Microsoft has a great history of working on R&D and developing some interesting reading technology, and I think we've done the same."
This is a deal that both companies desperately needed to do. Barnes & Noble has done an admirable job keeping up with Amazon in the market for digital reading devices. Despite its roots as a traditional retailer, it set up a technology division in Palo Alto and has effectively exploited its retail presence to sell devices to its customers. (In some ways, I think the new Nook "Simple Touch Reader" is superior to the new Kindle Touch, particularly in the responsiveness of its touch screen.)
Barnes & Noble, though, was getting badly outspent in the race to crack new global markets and to furnish the Nook tablet with low-cost digital media and connections to the cloud. Microsoft will help it catch up. The capital infusion will also give the Nook a boost in matching Amazon's voracious price discounting on e-books. "Microsoft is the ideal partner, and we have been in various discussions with them for some period of time," Lynch said.
Meanwhile Microsoft has lagged badly behind Apple and Amazon in tablets, despite introducing a way-ahead-of-its-time Tablet PC operating system in 2001. It has also flailed in e-readers, which is ironic, because it was talking about digital reading as early as 2001 and unsuccessfully trying to set a software standard for the industry. Microsoft exec Andy Lees argues that it's still early. "There's going to be a lot of innovation over the next few years," he said. "Less than five percent of books are digital."
The companies didn't say anything about new products, other than that NewCo will develop a Nook app for Microsoft's new Windows 8 operating system. But it's reasonable to assume that future Nooks will now tilt toward Microsoft's platforms. Upcoming versions of the Nook could operate on Windows Mobile (as opposed to Android, which they currently run), giving Microsoft a foothold in the tablet market. They could also link to Microsoft's digital media services, utilize Microsoft's speech recognition technology, and who knows, even one day interoperate with the Xbox in the living room.