Why the Amazon Naysayers Should Be Scared
The company's latest earnings announcement shows it's firing on all cylinders
By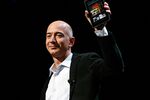 Another quarter, another blowout earnings report for Amazon.com. The online retailer and technology juggernaut blew away analysts' expectations on Thursday, posting $13.18 billion in revenue for the first three months of the year. The stock is up 13 percent. At this rate, the company will easily become the fastest retailer in history to cross $50 billion in sales for the year (it just missed in 2011). "The March quarterly results showed just enough upside in both revenues and margins to make the naysayers run for cover," Stifel Nicolaus analyst Jordan Rohan wrote in a research note, sticking the shiv into the vociferous Amazon short-sellers.
The earnings report was yet another rousing movement in the entrepreneurial symphony being conducted in Seattle by Chief Executive Officer Jeffrey Bezos. Everything seems to be going right just now: His company is attracting new customers and third-party sellers, getting existing customers to spend more, and increasing profitability on new ventures such as Amazon Web Services and the Kindle. In the context of those improved margins, its expensive investment in its own operations, normally so disconcerting to Wall Street, now looks much less foreboding. Amazon added almost 10,000 employees in the past three months and now employs 65,600 people, up from 37,900 a year ago. It is building at least 13 new fulfillment centers in the U.S. this year, which will allow it to accelerate delivery and perhaps even expand its nascent grocery-delivery business beyond Seattle.
I say "at least" 13 new centers because there's new news on that front almost every day. This morning, Amazon and Texas officials announced the company will begin collecting sales tax in Texas by this July and that Amazon will invest at least $200 million in new distribution centers in the state. It's one more example (California was another) where Amazon essentially blinked in its standoff with a state that wanted it to begin collecting sales tax. Yet Amazon still wins, because it builds the new distribution centers it needs to expand its operations. Bezos has perfected the art of architecting the win-win situation.
Amazon's founder himself was a no-show in yesterday's earnings ritual. (Tom Szkutak, Amazon's chief financial officer, runs the earnings call with an amazingly soporific drone. He could have a bright future narrating Audible audiobooks about medieval history.) One of the most interesting aspects to veteran watchers of Amazon's earnings report is the quote from the CEO that Amazon includes in its earnings release, because it typically shows what the company wants to draw attention to. Amazon's two-day Prime shipping club used to get most of the attention. Yesterday, Bezos used the opportunity to flog the thousands of e-books that are exclusive to the Kindle.
"You won't find them anywhere else," he wrote. "They include many of our top bestsellers—in fact 16 of our top 100 bestselling titles are exclusive to our store." Amazon is desperate to put a Kindle in people's hands, not only to dig a competitive moat around its book business, but to bring customers into the Kindle ecosystem at a time when they might consider entering the digital realms of such rivals as Apple or Google instead. That possibility—not profit margin, investment in operations, and expensive new innovation—is what the short-sellers should be worried about.
Before it's here, it's on the Bloomberg Terminal.
LEARN MORE