Where There Is Financial Literacy, There Is Hope
by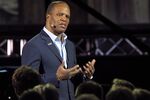 This Sunday will mark the 20th anniversary of the Los Angeles riots. As with all such dates, it will be a moment to reflect on the state of race relations and opportunity. On one level, there isn't much cause for celebration. Rodney King, the man whose beating by police prompted the riots when the officers were acquitted, has since been arrested a dozen more times, spent his $3.8 million settlement, and appeared on Celebrity Rehab. The 11.8 percent unemployment rate in Los Angeles County last month is higher than it was in 1992, while the earning power of many residents has dropped. Meanwhile, dropout rates are so dire that the Los Angeles Unified School District would like to let kids graduate with 25 percent fewer credits and let them pass college-prep classes with a D grade.
But that doesn't capture the hope now felt in Los Angeles—the hope that comes from reduced violence, a greater sense of community, and access to more tools to change your life. The most visible symbol of that hope this week was the sight of 10 buses touring through the neighborhoods where more than $1 billion of property was damaged and 54 people were killed. The Operation HOPE bus tour on April 24 was less about the economic issues weighing down L.A. (and the rest of the country) than the power of what's happening at the community level.
U.S. Deputy Secretary of Commerce Rebecca Blank was there. As an academic and a policy maker, she knows all too well the challenges facing low-income families. She also understands the power that such groups as Operation HOPE have brought to these communities. "I wouldn't confuse the macro picture with the micro picture," Blank said. "We've been through the biggest housing bust since the Depression. What you have to look at is the power that individuals can have when they become financially literate."
The Los Angeles riots have special meaning for John Hope Bryant (he added the middle name) because that's what prompted him to start Operation HOPE. What Bryant recognized was not just the lack of justice in some communities, but the lack of tools: people who cashed checks every month instead of depositing their pay into a bank account, who couldn't afford to own homes and didn't understand the consequences of a life lived on credit cards. Have those lessons been learned by most of us? The last downturn would suggest not. Bryant's nonprofit group has since reached millions of people in the U.S., South Africa, and Haiti. "It's about financial dignity," he says. "Economic empowerment is the new civil right."
Bryant, of course, is not alone in understanding the need for greater financial literacy across all income classes. (Some bankers fail to appreciate the perils of leverage, too.) But at a time when Americans are likely to look back on the past 20 years with disappointment about the lack of progress, his bus tour is a testament to the power of looking forward.
Next up: a "five million kids" initiative aimed at increasing financial literacy, the number of bank accounts, and even the number of people claiming earned income tax credits in this country. His HOPE Business-in-a-Box aims to encourage entrepreneurship by providing students with the tools to start a small business. And his 700 Credit Score Communities Initiative aims to convert streets lined with check cashers and rent-to-own stores into ones that boast an array of local businesses.
Two decades later, the sight of buses bearing banners with the word "hope" is a reminder that the crisis also spurred some good. "He's an inspiring and charismatic man," Blank says of Bryant, "but the more important thing is that he recognizes the tools people need to succeed."
Before it's here, it's on the Bloomberg Terminal.
LEARN MORE