The Postal Reform Compromise Nobody Loves
By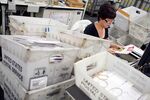 The bipartisan group of U.S. senators who crafted a bill to rescue the U.S Postal Service can take pride in at least one achievement. In the hopes of pleasing as many people as possible, Tom Carper (D-Del.); Joseph Lieberman (I-Conn.); Susan Collins (R-Me.); and Scott Brown (R-Mass.) produced a piece of legislation that has alienated most of the agency's interest groups.
Consider the Postal Service's management. Postmaster General Patrick Donahoe has pleaded for financial relief on Capitol Hill. The bill, which the Senate passed on April 25 in a 62-37 vote, would lower the nearly bankrupt agency's $5.5 billion annual retiree health-care prepayments, which it has struggled to make because of the decline of first-class mail. You would think Donahoe would be overjoyed.
Not so. The bill would also make it much more difficult for Donahoe to carry out his plan to save billions of dollars by eliminating Saturday delivery and closing as many as 3,700 unprofitable post offices and 252 mail-processing centers. "It's very important … to get these issues off the table," he told Angela Greiling Keane and Michelle Jamrisko of Bloomberg News after the vote. "Big mailers don't want to keep hearing the Postal Service is losing money."
The Postal Service's employee unions vehemently oppose Donahoe's restructuring scheme, which would have almost certainly meant staff reductions. But they don't care for the bill, either. They wanted Congress to do away entirely with the retiree health-care prepayments. The bill doesn't go nearly that far. "It does not provide sufficient relief," American Postal Workers Union President Cliff Guffey said in a statement.  "As a result, the USPS will not have access to the capital it needs to meet the challenges of the future."
In his own statement, National Association of Letter Carriers President Fredric Rolando concurred. "We're disappointed," he said. "Keep your chins up, brothers and sisters. This fight to save America's Postal Service is far from over."
That's for sure. The bill now heads to the House of Representatives, where the Republican leadership has a very different view of postal reform. Its members fear that the Postal Service will end up defaulting on its mounting retiree health-care liabilities unless it drastically reduces costs. Darrell Issa, a California Republican and chairman of the House Oversight and Government Reform Committee, has introduced a bill that would make it easier for the Postal Service to make draconian cuts in its facilities and personnel.
As soon as the Senate bill passed, Issa was blasting it. "Instead of finding savings to help the Postal Service survive, the Senate postal bill has devolved into a special interest spending binge that would actually make things worse," he fumed in yet another after-the-vote statement.
Considering how many people are unhappy with the bill, it isn't clear which special interests Issa is referring to.
Before it's here, it's on the Bloomberg Terminal.
LEARN MORE