Obama Wants to Trademark the GI Bill. Good Luck With That
By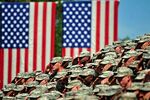 President Obama descended on Fort Stewart in Georgia on Friday to announce that his administration is cracking down on for-profit colleges that allegedly target veterans solely for their GI bill money. Iraq and Afghanistan vets have complained of enrolling in online colleges, only to find out they have to take out sizable loans because their GI Bill money doesn't cover the cost of the private schools. They say they expected to graduate with improved job prospects but ended up with debt and no job prospects.
"Sometimes you're dealing with folks who aren't interested in helping you," Obama told veterans, soldiers, and their families. "They don't care about you, they care about the cash."
Under an executive order Obama signed, colleges will have to provide vets with more information about the cost of their programs, and the Defense Dept. must issue rules on school recruitment at military bases. As part of his effort to protect veterans (whose votes he needs), Obama also ordered the Department of Veterans Affairs to trademark the term "GI Bill."
Trademark a law? Can you do that?
It'd be an unprecedented step, say intellectual property attorneys in Washington. And one that smacks of better PR than policy. "It's nonsense," says William Pecau, partner at Steptoe & Johnson.
Trademarks are for goods and services. They indicate a place of origin. "The GI Bill isn't selling anything," says Edward T. Colbert, partner at Kenyon & Kenyon. That's the first problem. Second problem: Trademarks are for the exclusive commercial use of their owners. The GI Bill—which dates to World War II—"has been used by everybody for a long time," says Colbert.
The administration says it wants the rights to "GI Bill" because for-profit schools and recruiting websites are using the term to "deceptively and fraudulently" market bad programs to veterans. If that's the case, attorneys say, officials have another recourse: state and federal laws.
"The Federal Trade Commission could step in. The state attorneys general could step in. You could sue them under the Lanham Act … part of it prohibits false advertising," says Pecau. "There are a number of ways you could go after deceptive advertisements, but trademarking the GI Bill is not the way to do it."
Alternatively, Congress could pass a law giving the VA the sole right to use "GI Bill" for commercial purposes. The U.S. Olympic Committee, the American Red Cross, and the Boy Scouts of America all enjoy that privilege, thanks to a federal statute designating them "patriotic and national organizations," says Colbert, and the same statute could apply to the GI Bill. "It's rarely used, because it has to be for something of a patriotic nature," says Colbert. "Clearly our veterans—people who fought and died for our country—clearly they would fit within that category."
Before it's here, it's on the Bloomberg Terminal.
LEARN MORE