Honesty Is the Best Policy for MBA Job Seekers
Alison Damast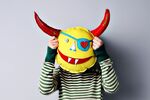 To thine own self be true, the oft-quoted William Shakespeare line, is advice that MBAs should take to heart as they undertake the job hunt. That's the conclusion of a study by two business school professors who find that candor is the best approach job seekers can take when interviewing, even though the temptation can often be strong to misrepresent oneself to appear a stronger candidate.
The professors, Daniel Cable of London Business School and Virginia Kay of the University's of North Carolina, Chapel Hill's Kenan Flagler Business School, followed a group of 146 MBA students over the span of their two-year B-school careers and shortly thereafter, trying to determine what role "self-verification"–people's desire to have others view them as played in landing a job and their job satisfaction. The researchers collected interview feedback from admissions staff who'd interviewed the MBA students before they matriculated at the school, as well as their final grade point average. Students also were asked to fill out a survey both during their summer internship and four months following graduation that asked them to answer questions about how they perceived themselves. For example, students were asked to rate themselves on such questions as, "I like to be myself rather than trying to act like someone I'm not," or "It's important for an employer to see me as I see myself, even if it means bringing people to recognize my limitations."
Those who were forthcoming about their self-image had a high level of job satisfaction, a strong commitment to their jobs, and high ratings from their supervisors, according to the study, published in the latest issue of The Academy of Management Journal. In addition, the authors found that business school admissions officers can do a better job predicting future academic performance of applicants who are more forthright about how they view their strengths and weaknesses.
The findings may be counterintuitive to MBA students, who often erroneously believe they need to engage in "extensive image creation" when trying to land a job, the study's authors said. That can backfire, because if individuals cannot deliver on the skills and abilities they promise, they may find themselves in a role where they will not be able to succeed. In addition, they may alienate themselves from their co-workers, Cable and Kay suggested in the paper, titled "Striving for Self Verification during Organizational Entry."
"Anyone who teaches in an MBA program has likely heard the litany of student complaints about the need to wear the mask, check your values, etc., when you enter the corporate jungle," Cable said in a press release. "When we launched this research, I would have been prepared to argue that maybe it's not so bad to be true to yourself even if it does diminish a bit your chances of landing a job. Finding that it doesn't diminish those chances in the short term while it helps everyone in the long term is a great outcome."
The report's findings jibe with the advice that career services officers traditionally give MBA students. Julie Morton, associate dean of career services and corporate relations at the University of Chicago Booth School of Business, says the authors' conclusions are "totally in line" with how they advise students beginning their job searches.
Even if students can "fake it" for the first round of interviews, they will find it harder to do so during the second and third round of interviews, when they spend a longer time interacting with people at the company where they are interviewing, Morton says.
"Our assumption is that you can be candid and professional at the same time," Morton says. "Your professional self may not be exactly the way you interact with your family and friends, but your professional self should not be this made-up, manufactured being by any means."
Before it's here, it's on the Bloomberg Terminal.
LEARN MORE