U.S. Airlines Find Out We Really Want to Fly
by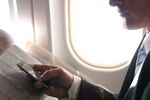 The first quarter turned out to be rosier than expected for many U.S. airlines, with fare increases offsetting higher jet fuel costs and redeeming what could have been a dreary winter. What's more interesting is the story behind the numbers.
Airline executives said demand has been strong and they expressed confidence the summer will bring continued throngs aboard planes. The companies have been relentless in their pursuit of capacity reductions (that is, fewer flights and planes) to cull unprofitable trips and to closely align aircraft sizes with demand. The effort has led to firmer pricing and the end of widespread discounting, with narrow fare sales deployed more surgically in 2012. "Since about two years ago it's been a slow, steady economic recovery," says Tom Trenga, US Airways' senior vice president of revenue management. "It gets a little better every month."
Central to all this positive news for the airlines is us, the consumer. We really want to fly, and it shows. Yet isn't unemployment still above 8 percent? Aren't we all on pins and needles that the euro's implosion is nigh? Don't people talk about being underwater more often in Arizona than they do on scuba diving trips? Even the Federal Reserve seems to be of a mixed mind about just how good or bad things really are. What gives?
"From the economic surveys I've seen in the media, basically people are adjusting to this new slow-growth economy and getting on with their lives, and you can see some faith in the business community," says Ray Neidl, a veteran aerospace analyst with Maxim Group, a New York investment bank.
One big source of demand for air travel is corporate America, which is sitting on a record cash pile of $1 trillion and is eager to stimulate new business. "The U.S. … continues to be really strong for us, and the premium cabin really drives that," United's chief financial officer, John Rainey, said on a conference call on Thursday, referring to corporate travel bookings. "People want to make sure that they're out there talking to their clients," says Megan Costello, managing director of the 2,500-member Association of Corporate Travel Executives (ACTE).
In its global travel forecast for 2012, American Express told clients to expect steep jumps in business-class fares "as airlines take advantage of business travelers needing to be on the road to secure new accounts and market expansion where opportunities exist." Michael Hilton, co-founder of Concur Technologies, a travel-expense management firm based in Redmond, Wash., says his 15,000 client companies are optimistic that the economy has turned a corner. "There's generally an optimistic and positive outlook from corporate America," he said in a telephone interview. "People are investing to grow their businesses."
Before it's here, it's on the Bloomberg Terminal.
LEARN MORE