Gordon Ramsay's Office Bag Lunch
by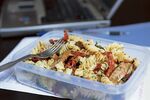 Few chefs strike fear into the hearts of cooks like Gordon Ramsay, who has become known for his temper and colorful use of language on such television shows as Ramsay's Kitchen Nightmares, Hell's Kitchen, and MasterChef. That's TV. Off-screen, Ramsay also has opened successful restaurants around the world, from London to Tuscany to Los Angeles, and so far has earned more than a dozen Michelin stars.
"Don't skip meals or resort to junk food, however busy you are. Keep some great standby ingredients in the refrigerator and freezer and you'll always be able to run up a speedy, nourishing working lunch," he writes in his cookbook Gordon Ramsay's Fast Food. Chef Ramsay shares an easy recipe for fusilli salad with merguez sausages and olives from his book's chapter on working lunches.
Ingredients:
5 oz. fusilli
Salt
7 oz. merguez sausages
Olive oil
1/4 cup sun-dried tomatoes
1/2 cup quartered pitted olives
Chopped mixed herbs (such as Italian parsley, chives, and basil)
Instructions:
Cook 5 oz. fusilli in a pan of well-salted water for 10 to 12 minutes or until al dente.
In the meantime, thinly slice 7 oz. merguez sausages on the diagonal. Heat 2 tbsp. olive oil on a skillet and cook the sausages over medium heat until golden brown. Toss through 1/4 cup sun-dried tomatoes and 1/2 cup quartered pitted olives. Warm for a minute or two, then take off the heat.
Drain the pasta and toss with the sausage mix. Taste and adjust the seasoning. Stir through a handful of chopped mixed herbs. Serve warm or cold.
Before it's here, it's on the Bloomberg Terminal.
LEARN MORE