An "Invisible" Bike Helmet From Sweden
By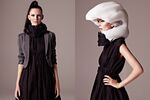 Would you trust a battery-powered bike helmet that appears on your head only in an accident? Swedish helmet maker Hövding hopes so. The company makes an "invisible helmet"—a safety accessory turned fashion accessory. It fits around the neck like a collar and inflates around the head like an airbag upon impact. Until an accident, there's nothing covering the user's delicate head—or superbly coiffed hair.
Here's how it works: Sensors in the collar detect unusual movements by the wearer. Upon impact, the sensors trigger a gas inflator that pumps air into an airbag that's folded into the collar, which fully inflates around the head it in 0.1 seconds. Hövding, which is available in Europe for SEK3,998 (about $595), weighs about 1 1/2 lbs. and uses a rechargeable battery. It must be turned on. About one hour before the battery runs out, it makes a "battery low" sound.
It takes a leap of faith to trust a helmet that doesn't cover the head. "I am all about knowing that I have something on my head, that there won't be any malfunction," says Brent Tongco, a spokesperson for the nonprofit Bike New York who bikes 16 miles to and from work every day. "It's definitely more fashionable [than a traditional helmet], but on the flip side, I've seen some very cool-looking helmets, and this is more of a collar." Tongco, age 30, adds that Bike New York advocates safety, so as long as Hövding is as safe as traditional helmets are, bikers should feel free to decide which they prefer to wear.
The product has been CE certified in the EU but is not yet for sale in the U.S., says co-inventor Anna Haupt, a 32-year-old industrial designer who co-founded Hövding with Terese Alstin in 2005. Since selling commenced in November 2011, about 700 invisible helmets have sold. The company has so far been contacted by five people who say the device saved their lives, including one who posted the incident on Facebook less than 24 hours after sales began, Haupt says.
Why reinvent the helmet? Vanity, for starters. "People would rather get hurt than mess up their hair," according to a description on INDEX, a Danish nonprofit that gave Hövding a design award in 2011. "The instant we heard the word invisible, we realized that was what the world was waiting for. An invisible bicycle helmet. That wouldn't ruin your hair."
Of course, malfunction is a concern with a gadget like this, but there are some other important things to consider, such as: Is a collar really cooler than a helmet? And if I'm clumsy enough to accidentally trigger the sensor, wouldn't having an airbag on my head be way dorkier than a helmet? Wouldn't the sudden burst be likely to provoke an accident? And what if something hit me directly in the head before the thing had a chance to inflate? So many questions.

Before it's here, it's on the Bloomberg Terminal.
LEARN MORE