business
Wal-Mart, Avon Execs Should Stop Hiding Behind Boards
Facing shareholders in times of crisis is part of a CEO's job description
By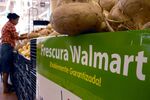 It has to be every chief executive's primal fear: that someday, somewhere in the world, some employee (preferably a junior one) will pay a bribe, tap into client funds, or otherwise break the law while employed at the company you lead. The results can range from embarrassing to devastating—Barings was the U.K.'s oldest merchant bank before ING bought it for the price of a Dutch chocolate bar in 1995.
The actual villains are usually easy to identify, whether it's a "rogue" trader like Barings bad boy Nick Leeson or ex-KBR chief Albert J. Stanley, who was recently sentenced to 30 months in prison for his role in bribing Nigerian officials to win contracts. And bribes, in particular, are a time-honored tradition across multiple industries. Allegations of bribery currently touch companies as diverse as Nike, Hewlett-Packard, News Corp., and Avon.
But what about the person who's boss while all this bad stuff is happening? That's the question now facing Mike Duke of Wal-Mart as he deals with the fallout of a recent New York Times investigation of the retailer's handling of a Mexican bribery scandal that dates back to 2005. As the head of international operations at the time, Duke was allegedly informed about the $24 million in bribes the Mexican unit doled out. The amount itself may seem like chump change to a CEO whose annual compensation has hovered in that range—though it decreased to $18.1 million last year.
What's at issue is how Wal-Mart's senior management handled the allegations: Reportedly they were simply swept under the rug. Never mind that the Foreign Corrupt Practices Act (FCPA) forbids U.S. companies from paying bribes to foreign officials. For a company that was already coping with an embarrassment of, well, embarrassments, adding illegal payments to the pile must have seemed unpalatable. Duke, after all, was replacing Thomas Coughlin, who had been ousted for stealing as much as $500,000 from the company by filing fake expense reports and using gift cards reserved for store associates. Fast-forward to today: Wal-Mart is investigating the claims, cooperating with officials, and has created a new position to monitor FCPA compliance.
Then there's Avon. The world's largest direct seller of cosmetics announced in December that Andrea Jung was stepping down as CEO. Among other things, Avon is dealing with the fallout of a bribery investigation that also involves behavior from years ago. This one involves alleged payments worldwide, most notably in China, and was launched by a whistle-blower letter sent to Jung in 2008. One possible complication: An internal audit report apparently flagged such problems at least two years earlier.
What unites both brands are boards and management that have suddenly sprung into action, launching internal investigations and firing off uncompromising statements saying integrity is sacrosanct within the corporation. Duke sent employees a memo, obtained by Bloomberg News, reminding them of the retailer's "strong anti-corruption" programs and policy that it "will not tolerate violations anywhere or at any level of the company." Jung mounted posters at company headquarters that tell employees they should speak up when they see wrongdoing.
But there's a more telling commonality, too. Both Jung and Duke remain firmly behind closed doors as far as public explanations are concerned, and enjoy at least the appearance of firm support from their boards. While Jung may have lost her CEO title, she has said she'll remain on the payroll as executive chairman for the next two years. Duke has done little beyond reiterate his company's commitment to the highest standards. Neither has made themselves available to shareholders or the media to explain the failures that apparently resulted in bribes being paid by high-level executives within the company.
When a company resorts to issuing statements through a spokesperson, it's essentially telling shareholders the chief executive isn't up to facing the public. Maybe that's a wise course of action as far as the board or corporate counsel is concerned, but it reneges on a basic pledge to the company's shareholders. In return for reaping the rewards of rising sales and a buoyant stock price, a chief executive is supposed to take responsibility in times of crisis. At both Avon and Wal-Mart, that hasn't happened.
Before it's here, it's on the Bloomberg Terminal.
LEARN MORE