The Folks Who Called Apple's Big Quarter
by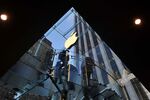 The financial press was breathless over Apple again yesterday as the world's most-valuable company blew past analysts' estimates for earnings in the second quarter on the strength of 35.1 million iPhones sold. "[A]nother amazing quarter from Apple … is single handedly driving markets this morning," wrote Peter Boockvar of Miller Tabak. Apple posted earnings per share of $12.30 and $39.2 billion in sales. The Street, or at least the sell-side analysts who carry that tag, predicted $10.02 in earnings per share and $36.9 billion in sales, according to data compiled by Bloomberg. The surprise pushed Apple's stock up nearly 10 percent and kick-started a worldwide rally.
Who saw this coming? A crowd of 115 people at Estimize did. The startup is opening up earnings estimates to all comers—and, so far anyway, beating the Street. The Estimize crowd predicted $11.68 in earnings per share and actually overshot on sales with $39.5 billion. So next quarter, maybe check "Xiath," a self-identified buy-side analyst at Estimize who anticipated $12.25 in earnings per share and $39.6 billion in sales.
Before it's here, it's on the Bloomberg Terminal.
LEARN MORE