Ten Things Ford's Edgy, New Mustang Won't Be
Brett Berk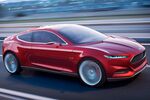 "The way to find a missing something," says the Cat in the Hat in his eponymous 1971 TV special, "is to find out where it's not." He called the approach the "Calculatus Eliminatus." So while every other publication is busy parsing Ford Motor's recent leaks about the 2015 Mustang, trying to determine what it will be, we applied the Cat's methodology—with the help of expert industry analyst Dave Sullivan from AutoPacific—to tell you what it won't be.
1) Retro: For the past eight years, the Mustang has been aping design cues from its glory days in the late 1960s—which is four times longer than the late 1960s themselves lasted. It is now more than played out. "The retro styling doesn't seem to drive purchases well with people under 40," says Sullivan. "And retro designs age quicker than other styles." The new design will be smooth and forward-thinking. "Expect it to be heavily, heavily influenced by the Evos concept they showed in Frankfurt last year," Sullivan says.
2) Front-Wheel Drive: Back in the dark ages of the mid-'80s, Ford considered ditching the Mustang's 20-plus years of rear-wheel–drive heritage and building it on the same platform as the unfortunately named, front-wheel–drive Probe. Luckily, intelligence prevailed, and the pony car remains potently pushed from its back end to this day. The next Mustang will carry on this tradition, working off an updated version of the platform that underpins the current car. "It's still going to be rear-wheel drive," Sullivan says. "You're not going to see a warmed-over 1991 Probe."
3) A Baroque Lead Sled: During the tail end of the Mustang's first generation, in the early '70s, as if in diametric opposition to the looming oil crisis, the formerly svelte 'Stang went on a binge, expanding wildly in nearly every dimension—and gaining 800 pounds. Ford has recently and very publicly committed to gaining fuel efficiency through weight reduction in its future vehicles—analyzing every component for ways to shed mass. "The Mustang's advantage over the Chevy Camaro [its most direct competitor] right now is weight," Sullivan says. "If they can chop out some weight, it can be a very competitive car."
4) A Battery-Electric Vehicle: Supercar manufacturers such as Porsche, Ferrari, and Lotus are all looking to electric motors as a means of adding power—and perhaps fuel economy—to their flagship sports cars. We don't see this happening in the Mustang. "Maybe there's a one-off, battery-powered Mustang somewhere in the lab," Ford's global director of sustainability and vehicle environmental matters, John Viera, told us, "but we have nothing planned for that in the short term."
5) A Gas Guzzler: A 7-liter, 1971 Mustang Mach 1 V8 produced 375 horsepower, and averaged 9 to 10 mpg. The current V6-powered car produces 300 horsepower and returns 30 mpg on the highway. Every car in Ford's lineup "has a spot in achieving [federally mandated] corporate average fuel economy standards," Sullivan says. "Fun, fuel efficiency, and very modern design are going to be key points of a new Mustang."
6) A Wheezy, Turbocharged Disaster: Early on in its experiments in forced induction, in the late '70s, Ford inserted a turbocharged version of its 2.3-liter, 4-cylinder engine into the Mustang. Although the engine made nearly as much power as the car's contemporary V8, it was not ready for such prime-time placement, frequently overheating and catching fire. (The next-generation turbo-four in the 1984-86 Mustang SVO was much more reliable, and was beloved by discerning enthusiasts.) Ford now produces a whole line of modern EcoBoost turbocharged engines that make great power, reliably and efficiently. Sullivan sees versions of these turbocharged 4- and 6-cylinder engines as a certainty for the new car. "You're definitely going to see turbocharged power trains."
7) An Import Fighter: While the new Mustang promises to be more of a "world car"—with a shape, scale, and interior materials that might have appeal in markets like Europe—it seems unlikely that Ford's promise to deliver affordable performance, long a Mustang hallmark, will lead to the pony car morphing to compete with an Audi, BMW, or Mercedes. "It's still a great value for the money," Sullivan says. "That's what they're going to try to do again, with a wide range of pricing appealing to a lot of different types of people, in terms of power and comfort."
8) A Mid-Engined Two-Seater: One of the original concepts for the Mustang, back in the early 1960s, was a sporty, open-roofed roadster with a tiny, German 4-cylinder engine sitting behind the cockpit and driving the rear wheels. The car was lightweight, quick, and handled very well. But it would have been too expensive to produce at an affordable price. This is still the case. "The new car will not be a two-seater," Sullivan says. "Not with the premium insurance companies charge for cars with only two seats."
9) Only a Closed Coupe: Due to new government rollover standards—among other factors that include a reaction against decadence—Mustangs were available only as closed coupes for nearly a decade, from 1974 to 1983. The convertible Mustang returned triumphantly in 1983 and has been with us ever since. The new car will carry on this tradition. "You'll have a coupe [and] a convertible, as well as cars with a panoramic glass roof," like the current generation, Sullivan says.
10) A Pickup: The original 1964½ Mustang was based heavily on the Ford Falcon platform. So was the 1960-1965 Ranchero, a cruck (car-based truck). That was the last time it happened—in this country. (In Australia, crucks—called utes—remain popular, though the Falcon Ute sold there is not built on the same platform as an American Mustang.) "It will not be a truck," Sullivan says. "Don't make me sick."
Before it's here, it's on the Bloomberg Terminal.
LEARN MORE