Obama Camp Rips Romney's Business Record
By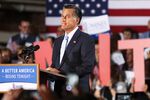 In a hastily arranged call with reporters this evening, the brain trust of President Obama's campaign team—chief strategist David Axelrod and campaign manager Jim Messina—declared that the general election had begun and announced two upcoming campaign events, in Virginia and Ohio. But what was most notable was the frontal attack on Mitt Romney's business record, which will likely be the centerpiece of Obama's campaign.
Here's an Axelrod riff that will soon be very familiar: "When you look at his career in business, which is the credential that he's hung his hat on, there's no evidence of that. His business career was not about job creation. It was about wealth creation for himself and his partners, and often it came through vehicles like outsourcing, leveraging companies with debt, bankrupting companies and making money off of those bankruptcies. Oftentimes that cost jobs, and certainly wages and benefits. It didn't create them. There's nothing in his business record that would suggest that he's a champion of creating an economy that works for the middle class."
Before Axelrod had finished, a Romney spokeswoman e-mailed this rebuttal: "Americans shouldn't be surprised that President Obama's campaign will attack Mitt Romney for his experience in creating jobs. Unfortunately, voters will have to expect that the Obama campaign will be running a campaign based on personal attacks to divert, distract and distort. Like Mitt Romney said last night, 'It's still the economy, and we're not stupid.'"
Can you feel the love?
Before it's here, it's on the Bloomberg Terminal.
LEARN MORE