business
India's Growth Story Dims on S&P Downgrade
By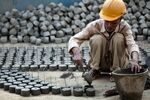 The Indian growth story took another hit today. Standard & Poor's announced that it has revised its outlook on India's long-term rating—which had been stable—to negative. According to S&P, there's a one-in-three chance of a downgrade to India's BBB- sovereign credit rating. The threats to India's rating include a weakening global economy, falling growth prospects for Indian gross domestic product, and political paralysis threatening fiscal reforms. At the same time, S&P revised its outlook to negative for seven "government-related entities," including the Export-Import Bank of India, the India Infrastructure Finance Co., the Indian Railway Finance Corp., and the Power Finance Corp.
S&P cited what it called "an extremely high likelihood of extraordinary government support" to these GREs, hence ratings at the same level as the rating on India. S&P also downgraded to negative the outlook for the three top IT companies in the country, Infosys, Tata Consultancy Services, and Wipro.
The news comes as the Indian economy is enduring a significant slowdown in growth. S&P sees India's economy growing just 5.3 percent in the new fiscal year, which runs from April to March, down from the 6 percent the country has averaged over the past five years and well below the 8 percent it enjoyed before the global financial crisis.
For many economists, India's government is making the situation worse, with New Delhi running up large budget and current account deficits. "India is all about homegrown, self-inflicted injuries," says Rajeev Malik, senior economist in Singapore with CLSA Asia-Pacific Markets. He points to policy setbacks, such as a failed plan to open the retail market to foreign investment, as well as proposed changes to India's tax laws and to corruption scandals.
The government's latest budget was "disappointing," says Tamara Henderson, a Bloomberg economist in Singapore. According to an estimate by Finance Minister Pranab Mukherjee, the fiscal deficit for the fiscal year ended March 31 was 5.9 percent of GDP. Mukherjee aims to reduce that to 5.1 percent in the new fiscal year by capping some subsidies and raising service and excise taxes.
Some economists aren't optimistic. Although the government needs to rein in spending, "this budget targets revenue growth equal to spending growth," Henderson says. "It's not a sign of any hard work" by policy makers. Moreover, the policies of the central bank, the Reserve Bank of India, aren't helping inspire confidence. The RBI recently cut interest rates by 50 basis points, even though the government hasn't shown a willingness to cut spending.
Don't hold your breath waiting for improvement. "We expect only modest progress in fiscal and public sector reforms, given the political cycle—with the next elections to be held by May 2014—and the current political gridlock," S&P said in its statement. "Such reforms include reducing fuel and fertilizer subsidies, introducing a nationwide goods and services tax, and easing of restrictions on foreign ownership of various sectors such as banking, insurance, and retail sectors."
Some problems might even get worse. CLSA economist Malik forecasts that the current account deficit will hit 4 percent of GDP in the new fiscal year, up from 3.8 percent in fiscal year 2012. He also expects the government to miss its budget target, with the fiscal deficit coming in at 5.5 percent. That's largely because lawmakers looking ahead to new elections are unlikely to take politically unpopular moves, such as cutting subsidies for gasoline, diesel, and kerosene. Those subsidies amount to 2.5 percent of GDP, says Malik.
While governments in Southeast Asian countries such as Indonesia and the Philippines have made progress in addressing such problems as corruption and deficits, India's government has not, he adds. "The Indian government is a bit like a quadriplegic," says Malik. "It can think great things—but when it comes to implementation, it can't move its legs."
(
Corrects reference to GREs in the second paragraph.
)
Before it's here, it's on the Bloomberg Terminal.
LEARN MORE