GMAT Tip: Setting a Target Score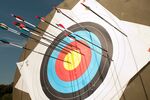 The GMAT Tip of the Week is a weekly column that includes advice on taking the Graduate Management Admission Test, which is required for admission to most business schools. Every week, an instructor from a top test prep company will share suggestions for improving your GMAT score. This week's tip comes from Andrew Mitchell, director of pre-business programs and GMAT instructor at Kaplan Test Prep.
Setting goals is critical to success. You have to know where you are going if you actually want to get there. In terms of GMAT success, your preparation is directionless without a target score. Yet taking aim at a number that does not align with your specific goals—namely the score you need to get into your dream school—is almost worse than not aiming at anything at all.
It is essential that your target score reflect the needs of the institutions to which you are applying. If you have set your target at 750 or somewhere similar, please ask yourself why. Do you really need such a high score? Make sure your answer isn't coming from a place of pride, as in, "because I want to beat everybody else." Rather, align your answer with your goals: "Stanford has the best program in relation to my specific career interests. Stanford boasts a mean score of 728 for admitted applicants in 2010. Since my undergraduate GPA isn't as high as I'd like it to be, my number of years and type of work experience might not shine as brightly as I need them to. I don't interview very well either, so my GMAT score needs to be nearly perfect for my application to be competitive." Set a target that is relevant, aggressive, and achievable. What's more, be sure you have the resources in place that allow you to measure your progress along the way.
Mitchell helps manage Kaplan Test Prep's GMAT business, including marketing, program development, and delivery. Still an active GMAT and GRE instructor, Mitchell is leading Kaplan's efforts to revamp its curriculum to teach the GMAT's new Integrated Reasoning section. A best-selling author, his previous experience includes consulting for the Pentagon and product development at Google. Mitchell graduated from Harvard University with a B.S. in physics in 2001 and completed his MBA in 2007 at the University of Chicago's Booth School of Business.
Join the discussion on the Bloomberg Businessweek Business School Forum, visit us on Facebook, and follow @BWbschools on Twitter.
Before it's here, it's on the Bloomberg Terminal.
LEARN MORE