Britain's Future May Be Darker Than People Think
GDP drops again in first quarter
By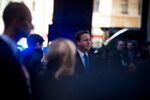 Financial markets have shrugged off the surprising news that Britain's economy shrank again in the first quarter, putting it into a recession. The positive spin is that the number may well be revised back into positive territory. IHS Global Insight said it was "hugely skeptical" of the official numbers. In London, British stocks rose today as good earnings reports outweighed concern about the economic contraction.
But economists at London-based Capital Economics warn today that worse may be ahead for the U.K. economy—with the bad news mostly emanating from the Continent. They estimate that a 10 percent drop in exports to the euro zone could cost as many as 1.5 percentage points of British gross domestic product. That would be three times as large as the hit on the U.S.
"This would be particularly unhelpful at a time when the U.K.'s economic plans rely on a boost from the external sector," notes Capital. That's a reference to the austerity measures of Prime Minister David Cameron, which hinge on the notion that export-led growth will compensate for a decline in government spending.
Capital Economics is looking for a 0.5 percent contraction in U.K. output this year. That puts it at the bottom, according to 27 forecasters surveyed by Bloomberg News. The median is 0.6 percent growth, and the high is 0.8 percent.
Before it's here, it's on the Bloomberg Terminal.
LEARN MORE