Austerity's Advocate: A Date With Dr. Nein
Can the head of Germany's Bundesbank persuade Europe to stick with austerity?
By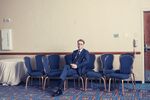 All around Jens Weidmann, the hard-money ramparts of the 13-year-old euro fortress are crumbling. On April 22, French President Nicolas Sarkozy, a voice for fiscal restraint, finished second to Socialist candidate François Hollande in the first round of presidential voting, jeopardizing Sarkozy's reelection prospects. A day later an even bigger shock came from one of Germany's closest allies: Dutch Prime Minister Mark Rutte tendered his Cabinet's resignation to Queen Beatrix after failing to garner sufficient support for austerity measures. Spain and Italy, meanwhile, warn they will miss deficit-reduction targets that they only recently committed to. In country after country, European voters are turning to politicians whose motto is growth now, cuts later.