The Global Dealmaking Slump Continues
by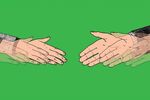 The flurry of multibillion-dollar global deals involving companies such as Nestlé, Express Scripts, and GDF Suez so far this April might make you think mergers and acquisitions are making a comeback. Not so fast.
Bloomberg data indicates the total value of pending and completed company takeovers from April 1 through April 24 in 2012 is $62.8 billion. The values for the same period in 2011 and 2010 were $91 billion and $92 billion, respectively.
Global dealmaking has slumped over the past three quarters. Mergers and acquisitions last quarter fell 14 percent from the previous quarter, making it the slowest three-month period in two and a half years, according to Bloomberg. During that time, Glencore International's $45 billion acquisition of Xstrata was the only purchase that topped $8 billion.
The overall value of M&A deals so far this quarter seems to indicate further decline. One sign of hope, however, may be that the deals made this month are somewhat bigger than those from last quarter, with several topping $8 billion in value. Express Scripts in early April completed its $29 billion purchase of rival drug benefits manager Medco Health Solutions. GDF Suez acquired International Power for $11 billion. And on Monday, Nestlé announced it will pay $11.9 billion for Pfizer's infant-nutrition unit.
Investment bankers interviewed by Bloomberg in late March said they expect the global dealmaking slump to reverse as the economic recovery gains momentum. "If we find ourselves in June having these same low activity levels, I'd be really surprised," says Peter Tague, co-head of global M&A at Citigroup.
Before it's here, it's on the Bloomberg Terminal.
LEARN MORE