Le Pen Casts a Long Shadow on France's Presidential Election
The right-wing leader is gaining clout
By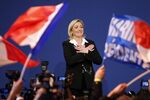 Leaders of France's right-wing National Front (FN) party, long dismissed as dangerous extremists, may finally be realizing their dream of becoming a major force in national politics.
Marine Le Pen, the FN presidential candidate and daughter of the party's founder, drew 18 percent in the first round of voting on April 22. That wasn't enough to advance her to the second voting round on May 6, but the surprising breadth of her support poses challenges for both President Nicolas Sarkozy and his Socialist opponent, François Hollande.
Le Pen has appealed to voters' anger over a stagnant economy and their fears about crime and immigration. Unhappiness was directed as much against the Socialists as against Sarkozy's conservative Union for a Popular Movement (UMP).
"I used to be a Socialist," says Jean-Marc Rouvière, a police officer and labor-union activist in the Ardèche region in southeastern France, who supported Le Pen. Rouvière faults Sarkozy's stewardship of the economy: "Look at Greece and Spain," he says. "We're rapidly following them." He also says the Socialists are too soft on crime and immigration policy. "We, the police, see this every day," he says.
Rouvière says he'll abstain from voting in the second round; polls taken in the past few days indicate that from 21 percent to 23 percent of Le Pen voters will do likewise. The same polls show that no more than 57 percent of Le Pen voters will support Sarkozy, while as many as 27 percent will back Hollande. Le Pen has said she won't tell her supporters how they should vote.
Sarkozy, who placed second behind Hollande in the first round, needs a strong majority of Le Pen voters to back him if he is to win the second round. He wasted no time in reaching out to them. "I see [their] vote as a cry of suffering, as an expression of rebellion," he said on Monday. The problem is that many in Sarkozy's own party—as well as backers of the moderate François Bayrou whom he is also trying to woo—view the FN with alarm.
One of their biggest fears is that a resurgent FN will cripple the UMP's chances in legislative elections on June 10 and 17. The FN currently holds no seats in Parliament and isn't likely to win many. "But they are going to create problems everywhere" by draining away support from conservative UMP candidates and allowing Socialists to win more seats, says Nonna Mayer, a researcher at the Institute of Political Studies in Paris, known as Sciences Po. Some FN leaders have said openly that they plan to vote for Hollande in hopes of crippling the UMP, opening the way for their party to become the dominant voice on the French right.
Le Pen's appeal also presents problems for the Socialists. Hollande has attributed the FN's strong showing to public unhappiness over austerity measures. That seems unlikely, since France so far has implemented few spending cuts. Rather, Le Pen picked up support primarily in regions particularly hard-hit by economic stagnation and high unemployment. Many of these areas are traditionally Socialist.
Indeed, Le Pen seems to be chipping away at the Socialist base. An April 22 poll by the CSA survey group showed that her supporters were heavily working-class, whereas Hollande's were split evenly among professionals, blue-collar workers, and retirees. Le Pen, a single mother with a softer, more telegenic style than that of her father, Jean-Marie Le Pen, also drew support from an estimated 27 percent of working-class women. That's a big contrast with past elections, when FN support was overwhelmingly male.
The vote for Marine Le Pen "was not simply a protest," researcher Mayer says. "These voters absolutely support her ideas." Those ideas include not only the FN's longstanding call to restrict immigration, but also conservative positions on social issues, Mayer says. Some 70 percent of Le Pen supporters, for example, favor restoring the death penalty in France, compared with only 30 percent among all voters nationwide.
Le Pen may have lost the election, but Sarkozy and Hollande can't afford to ignore her.
Before it's here, it's on the Bloomberg Terminal.
LEARN MORE