Business Loans and Hand-Holding, Beer Optional
By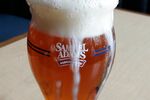 When Jim Koch launched the Boston Beer Co. in 1984, he learned that ventures like his shouldn't waste time trying to get a bank loan. "What one of the bankers said to me was, 'We're not in the business of taking risks. We don't get paid to take risks. Look at our margins."
That reality check led the sixth-generation brewer—who holds a bachelor's degree, a law degree, and an MBA from Harvard—to create a philanthropic program to finance loans and offer advice to other entrepreneurs in the Boston area running food, beverage, and hospitality businesses. Launched in 2008, the initiative aims to go beyond traditional corporate philanthropy to "leverage" Boston Beer employees' expertise, "rather than just giving away money or time or beer," says Koch. "I wish I could've had some loan money instead of having to raise equity, and I would've loved to have advice about the nuts and bolts of growing a business."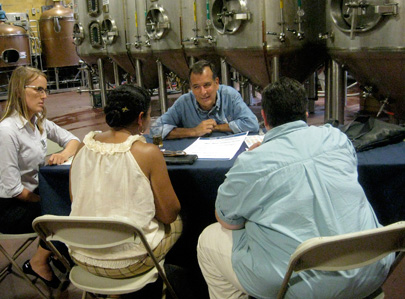 Now the program, Brewing the American Dream, which has advised nearly 3,000 business owners and financed more than $1 million in small loans for about 150 businesses, is going national. Boston Beer, the largest craft brewer in the U.S., plans to lend at least $1 million this year, hold monthly speed-coaching events in major cities across the country, and curate an online-networking and education site for participants.
The coaching events, at which beer flows freely, are meant to be informal and are open to any business owner, not just loan recipients. "You put [Jim Koch] in a room with business owners and they've come in part because they know of his success and they really admire the brand," says Gina Harman, president and chief executive officer of Accion U.S. Network, a nonprofit microlender with which Boston Beer has teamed to administer the loans and help coach entrepreneurs. "They expect somebody who is completely unapproachable to enter the room. Inevitably he walks in in his khakis and his blue shirt and a bottle of beer in his hand and you can just see the whole room relax."
Koch isn't seeking a financial return from Boston Beer's investment in the program—a tiny fraction of the $157 million the company says it spent in 2011 on advertising, promotions, and selling expenses. "There is a huge amount of coaching, hand-holding, advice to get the repayment [rate] up to 95 percent," says Koch. "I know from the economics of our program; you lose money on it. It has to be philanthropic."
Supporting small businesses through donations to nonprofit lenders has been catching on among prominent companies, which have created programs such as Goldman Sachs's 10,000 Small Businesses and Starbucks's Create Jobs for USA. "But [Boston Beer's] combination of employee engagement, capital resources, and mentoring feels new to me—and very much a response driven by what's been happening in the economy in the U.S. over the last several years," says Harman. "It was a right time in the economy because lending had all but come to a halt and small businesses were really struggling."
Anita Gokey got a sense of Koch's pain when she and her husband bought Karl's Sausage Kitchen & European Market, a gourmet retailer outside Boston nearly five years ago. They were turned down by several banks when they sought a loan for capital improvements. She received an $18,000 loan within about six weeks of applying to Boston Beer's program in 2008. Now Gokey says she's just landed a conventional bank loan that she is using to buy and gut a building twice the size of her existing space. "We could show a track record of investment and growth in the business, so the new lenders were much more into working with us on the next venture because of that," she says.