B-School Twitter Roundup
Alison Damast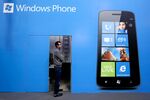 This week's Twitter roundup of happenings in the business school world includes a B-school professor making the cut for Time magazine's "100 Most Influential People" list, a new degree program for NYU's China campus, and an inside look at university incubator programs.
Students at the University of Connecticut hold a "car smash" fundraiser to raise funds for a B-school scholarship in honor of Christian Klorcyzk, a undergraduate finance major who died last year after a car fell on him (@UConnBusiness, 4/17).
Kristen Fanarakis, an online MBA student at University of North Carolina's Kenan-Flagler Business School, addresses what she thinks are three of the most common myths about online programs (@MBAatUNC, 4/17).
Clint Ellenberg, a second-year MBA student at the University of Texas, Austin's McCombs School of Business, gives an inside peek at what it's like to work with companies in the school's incubator program (@UTexasMcCombs, 4/17).
MBA students from the Stanford Graduate School of Business help organize the university's Cool Products Expo (@StanfordBiz, 4/18).
MIT Sloan Finance Professor Andrew Lo makes Time's "100 Most Influential People in the World" list (@MITSloan, 4/18).
Rich Lyons, dean of University of California, Berkeley's Haas School of Business, says the school's latest online MBA class on the intersection of power and politics was oversubscribed by some five times (@richlyons, 4/19).
Jill Zarin, former Real Housewives of New York City star, gives marketing advice to MBA students at Rutgers Business School (@RutgersBSchool, 4/19).
Wharton marketing students will present strategy campaigns nextweek to Microsoft executives for the new Windows Phone (@Wharton, 4/19).
Thunderbird MBA students break down the branding strategies of OKCupid.com and Match.com, two of the world's largest online dating companies (@Thunderbird, 4/21).
The first degree program offered at New York University's Shanghai campus will be a new Master's of Science in Business Analytics, launching next May (@NYUStern, 4/23).
Before it's here, it's on the Bloomberg Terminal.
LEARN MORE