Managing Funny People on Your Staff—and Board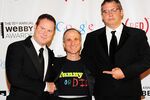 Plenty of chief executive officers manage businesses with right-brained employees—software developers, copywriters, movie directors, graphic designers, you name it. But really, how many executives have famous funnymen on their board as well? Imagine "managing up" when your board meetings can bounce between the serious and the hilarious.
If the numbers tell the story, Dick Glover, CEO of Funny or Die, the humor website co-founded by Will Ferrell and Adam McKay, is managing just fine, thank you. The five-year-old company racks up over 62 million video views per month, and has north of 3 million Twitter followers and nearly 5 million Facebook fans. Glover says the privately held company is profitable, but he won't disclose revenues.
Glover (admittedly not as right-brained as those around him) has nonetheless helped build Funny or Die into what could be the model for a 21st century digital studio. With 80 employees spread throughout headquarters in Hollywood and satellite offices in Palo Alto, Calif., and New York, Funny or Die now produces everything from feature films to shows for cable television and other websites. Of course, there's still a steady stream of pieces for the website, like the recent video playing off former Goldman Sachs executive director Greg Smith's resignation letter.
In a series of e-mail exchanges, Glover (the one in the Funny or Die T-shirt, above) shares with TMB his management style and some of his experiences at a company that claims to have used its early funding to hire "nine full-time lobbyists in Washington and an elite private security force consisting of four hundred soldiers and six attack helicopters."
Do you have to be funny to manage a comedy website?
No, and I am living proof of that every day. One of the reasons it works here is I know my job is not to be funny or creative, but rather to enable the best in the business to be funny and creative.
In staff meetings, do you find yourself saying, "I'm being serious"?
Not too often. Do I find myself asking the others, "Are you being serious?" Yup, frequently.
What's a board meeting like?
Key staff present what's going on; board members ask questions and offer advice. Group brainstorming takes place. Occasionally swerves into complete non sequiturs—the unknown and the obscure happen.
What comes from these brainstorming sessions and non sequiturs?
Our recently launched interactive iPad newsstand publication, The Occasional, was the source of—and beneficiary of—board brainstorming. [The Occasional is a digital magazine launched in March that will be out every other month because, as the company says in its iPad app description, "We have no idea what we're doing."] One swerve was a lengthy "discussion" about what it would take to get Apple to make the '5' button on the iPhone an FOD (Funny or Die) icon and link to our app.
Creative types—especially in Hollywood—have a reputation for being difficult to manage. How do you keep the creativity flowing and the business running smoothly?
The creative folks I work with are most assuredly not difficult to manage. Creative people want to have an environment where they are trusted to be the creative one. They have that here. But here they also understand the business realities. They know how the business is doing, how what they do can positively or negatively impact the business, what they need to do to accomplish their personal goals, and how their goals fit into the larger company goals.
Every organization has stultifying processes—from performance reviews to ordering paper clips. How do you keep those mundane tasks from taking the fun out of Funny or Die?
We constantly remind folks that in order to have the platform to do pretty much whatever the hell they like, they have to put up with a little bit of process and rules. It's a very good trade-off. Also, because everyone understands what a good thing we have going, they don't want to be the one to screw it up.
Most CEOs don't have Will Ferrell or Adam McKay on the board. Does that require a different set of skills?
Not really. Like any boss, he/they want to know what's going on and be able to set the tone and direction. We all make sure Will and Adam and the rest of the board are not only fully informed but able to be part of the decision-making process on an ongoing basis. I've been lucky in my career that all my bosses have been supportive and engaged, and that is true in this position, too.
Before it's here, it's on the Bloomberg Terminal.
LEARN MORE