Estimize, an Earnings Crowd That Beats the Street
Estimize earnings forecasts beat Wall Street pros for accuracy
by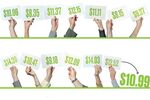 When Apple reported yet another quarter of climbing sales and profit on April 24, the better-than-expected results surprised most analysts and investors. With earnings per share of $12.30, the iPhone maker topped the median estimate of analysts surveyed by Bloomberg by $2.28. And its $39.2 billion in sales beat the consensus estimate by $2.3 billion. The news fueled a 10 percent rise in Apple's stock the following day and kick-started a global rally.
Not everyone was caught off guard. A group of 115 people at Estimize, a New York online startup that is opening up earnings estimates to the crowd, predicted $11.68 in earnings per share and sales of $39.5 billion. Estimize is the brainchild of 26-year-old Chappaqua (N.Y.) native Leigh Drogen. The site invites anyone to contribute earnings estimates—including sell-side analysts at banks who make up the Wall Street consensus, their buy-side clients at hedge funds and proprietary trading desks, and independent investors. More than 6,000 users have signed up since the site was launched in December. Estimize aggregates the earnings predictions and posts them next to a Wall Street consensus forecast taken from Zacks Investment Research.
In the first four months of 2012, the site's earnings forecasts for 160 reports were more accurate than those by Wall Street analysts 63 percent of the time. "We are able to put forth the guys who are actually the best analysts," says Drogen, "vs. the guys who are just the loudest or have the biggest names."
The concept of crowdsourcing earnings estimates isn't new. Unpublished profit forecasts, or whisper numbers, have long circulated on Wall Street ahead of a company's official results. Online sites such as EarningsWhispers and WhisperNumber have been publishing estimates since 1998 based on input from investors and analysts and in-house algorithms that refine the data. While Estimize can brag about Apple this past quarter, WhisperNumber has been closer than Zacks on the company's earnings in 20 of 22 quarters since 2007; EarningsWhispers is 21 for 22. "I think he's a bit late to the party with this," John Scherr, president of WhisperNumber, says of Drogen. "It's a nice attempt, but I don't think it's going to fly."
Drogen says he's not out to topple his predecessors so much as roll them all into one, big, transparent bag of numbers. "What we're trying to disrupt here is the idea that the whisper number is a whisper number," he writes in an e-mail. Estimize is simply a repository of guesses from a self-selecting crowd of investors hoping to prove themselves. It allows users to have pseudonyms and provides a leader board for each stock and a track record for each analyst. To make money, Estimize plans to sell its aggregated data to hedge funds, institutional investors, and information providers. Drogen says "a couple of the largest hedge funds in the world" are already customers, although he declines to name them.
Scherr expects the site to struggle with a flood of noise from users going by names such as "spongebrot" and "turtlebud." "If you're going to go the transparency route, you've got to use real names," he says. "If you're right, you want to be known. But most people aren't right; most people are wrong." Drogen is betting on the "spongebrots" of the world. "We don't care that you don't identify yourself as who you are in real life, as long as you create a track record," he writes.
Before it's here, it's on the Bloomberg Terminal.
LEARN MORE