SMU's Breakaway Hire: Former NBA Coach Larry Brown
Paul Wachter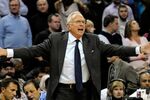 On Thursday, Southern Methodist University announced it had hired 71-year-old Larry Brown as its new basketball coach. Brown "has made every team he has ever coached a winner," said athletic director Steve Orsini, who apparently doesn't remember Brown's 2005-06 season with the New York Knicks, which finished 23-59, or his abbreviated 9-19 run with the Charlotte Bobcats in 2010.
Nonetheless, Brown has won championships coaching in college (Kansas) and in the National Basketball Association (Detroit), which is something no other coach has done. It's a splashy hire as SMU looks ahead to 2013, when it will leave Conference USA for the Big East.
It's also bound to be an expensive hire. While details of Brown's salary have not been released, there are reports that SMU, a private university in a tony section of Dallas, is willing to pay $800,000 per year to Illinois State coach Tim Jankovich to serve as Brown's assistant and "coach-in-waiting." (University of Maryland's Dalonte Hill's $300,000-per-year deal is believed to be the highest current salary for an assistant basketball coach.)
To pay Brown and his staff, Orsini has followed the template he used in 2008 to lure University of Hawaii's June Jones to guide the school's football program. He created a "Circle of Champions," a group of superdonors. For Jones, 20 donors each pledged $100,000 per year, with a five-year commitment, to make him the highest-paid coach in Conference USA. And just as SMU built a new football stadium and adjacent sports center at a cost of $56.8 billion, the school has now committed itself to a $40 million renovation of Moody Coliseum, where its basketball games are played.
While such investments may contribute to building winning sports teams, they don't necessarily help the university's bottom line. SMU doesn't make its budget information public, but SMU's The Daily Campus reported in 2010 that in the previous six years the athletics department lost more than $93 million, which is "equal to 40 percent of all tuition and fees paid by students in 2009."
At least SMU has a winning football tradition, albeit a tarnished one. In 1987, citing flagrant violations, including direct payments to players, the National Collegiate Athletic Association slapped the football program with the so-called death penalty, which effectively set back the Mustangs 20 years. But under Jones, SMU has earned three straight bowl appearances without falling afoul of the NCAA. The last time the basketball team won an NCAA tournament game was in 1988—the same year Brown led Kansas to the national title.
Despite SMU's lack of hardwood success, at least one prominent Dallas resident believes the city is ready to cheer on Brown's Mustangs. "Dallas would definitely get behind SMU, both football and basketball, if they were able to build some winning momentum," writes Dallas Mavericks owner Mark Cuban in an e-mail to Bloomberg Businessweek.
Before it's here, it's on the Bloomberg Terminal.
LEARN MORE