Pigs Fly, Republicans Rally Around Romney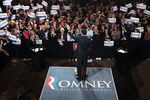 Last week I wrote that Mitt Romney is probably in better shape than most Republicans realize and that GOP support would soon coalesce around him now that his chief rival, Rick Santorum, has dropped out of the race. Several polls since then suggest this is already beginning to happen.
Romney's support has always been weakest among big-shot Washington-establishment types, who tend to hold him in low regard. Conservative columnist George Will, for example, famously suggested that Republicans give up hope of winning the White House and instead focus on Congress. But a new National Journal "Insiders Poll" shows that 95 percent of GOP insiders are either "very excited" or "somewhat excited" that Romney is their presumptive nominee. As Romney might put it: "Marvelous!"
His numbers among the GOP rank and file have likewise improved. In March the NBC/Wall Street Journal poll showed Romney's favorable/unfavorable rating at 50 percent to 16 percent. In the latest poll, out today, that split improved to 62 percent to 12 percent.
Another poll yesterday, this one from Public Policy Polling, also reflected this trend. "Romney's seen a massive improvement in his personal favorability numbers over the last two months as GOP voters have unified around him," pollster Tom Jensen said. In PPP's polling, Romney's favorable/unfavorable split has gone from 43 percent to 41 percent in February to 67 percent to 22 percent. He has seen a modest improvement among independents—but the overwhelming majority of his new support is among the very Republicans who held off for so long in embracing him.
If haughty liberal pundits take a few more shots at his wife, Romney's work consolidating the support of his party will essentially be finished. Or maybe, as Jon Stewart pointed out last night, it already is over:
Before it's here, it's on the Bloomberg Terminal.
LEARN MORE