Divers Arrested on Charges of Stealing Golf Balls From Club Ponds
By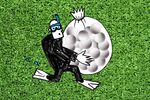 Your country club might not be as secure as you think. In Newtown Square, Pa., three men and a woman, all from Michigan, were arrested on April 18 for stealing golf balls out of ponds at White Manor Country Club in Willistown and Aronimink Golf Club in Newtown Square, police say. The cops found the four suspects and 8,000 golf balls inside a van with a trailer outside Aronimink Country Club, reported Malvern Patch.
Dick Naumann, general manager at Aronimink Golf Club, tells Bloomberg Businessweek that the police department usually sends a car through the property at night. Around 3:30 a.m., he says, the club's assistant manager and golf pro received calls from officers who had pulled two individuals in wet suits out of a pond after they noticed lights on the course.
The alleged thieves include Daniel Curry, 31, who says he owns a ball-retrieval and -reconditioning business called Plus 1, but did not have permission to be at either country club, states the police report. Curry told a judge he has contracts to retrieve balls from other clubs in the area and mistakenly thought they included these two properties. The four face charges of theft, receiving stolen property, and defiant trespass, Malvern Patch reported.
"They absolutely did not have a contract with us," Naumann says. "We don't hire people for that. We are in the business of selling new golf balls." Naumann was told about 800 balls were retrieved from Aronimink. Usually, the task of collecting balls is left to neighbors' children, who make a few dollars from them.
Club members are permitted on the property at night and can dive for golf balls if so inclined, Naumann says. "You'd raise a few eyebrows if you showed up at 3:30 in a wetsuit. You wouldn't get arrested for it, but you might get sent to the looney bin."
He adds that while it is unusual, thefts happen now and again. "I moved from Rochester, N.Y., and the club had a similar thing there. The police didn't get involved. We had some employees who lived on the property and they saw a couple of people at night and we chased them away."
Golf ball retrieval and recycling has become a multimillion-dollar industry, according to scubasource.org. About 100 million balls are recovered and resold each year. Hard-working golf-ball divers willing to scavenge in dark, chemical-drenched ponds can make $50,000 to $100,00 annually. On lostgolfballs.com, Titleist Pro V1 balls sell for about $9 per dozen to $30 per dozen.
Sam Snowdon, founder of Recovered Balls International, one of the largest processors of used golf balls, declined to be interview about the industry. "I try to keep our industry secrets secret," he says.
Before it's here, it's on the Bloomberg Terminal.
LEARN MORE