China's Hot New Tech Stock Offering: The People's Daily
by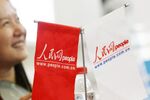 Mao Zedong may be tossing in his mausoleum. The People's Daily, mouthpiece of the Chinese Communist Party since 1948, is listing its online business on the Shanghai Stock Exchange. That's the Beijing-based newspaper best known for turgid headlines trumpeting Party unity. The calligraphic title "People's Daily" featured at the top of each paper is a copy of the original handwriting inscribed by the Great Helmsman.
The venerable party paper's online business, also known as People.cn Co., will raise 1.4 billion yuan ($222 million) in its initial public offering, almost three times the original target, says a Shanghai Stock Exchange filing on April 18. The sale values the company at 5.5 billion yuan, 46 times earnings.
While the People's Daily owns some 80 percent of People.cn Co., China's big three state-owned telecom companies, China Mobile, China Telecom, and China Unicom, are also shareholders. The listed company will have an initial market capitalization of $872 million, not far behind the $954 million value of the New York Times Co., reported Bloomberg News on April 19.
What are the Net dreams of the official voice of the Party? The January prospectus highlighted the People's Daily's advantages as having exclusive government news content plus advertising revenues from companies including state-owned ones. It also provides information services for the Chinese government, including the Ministry of Finance. Revenue grew to 331.7 million yuan in 2010, up 75 percent, while profit more than tripled to 81.6 million yuan, according to the prospectus.
The company plans to use the proceeds for upgrading its news content and technology, including mobile delivery. And it said it hopes this will help it better compete with much more successful Internet rivals Sina and Sohu.com. "The oversubscribed funds are expected to offer more leg room for the company's capital liquidity as the market has become more volatile," China Daily reported on April 18.
It is unclear whether a reliance on government news, exclusive or not, will be an advantage. China's boisterous Internet now has some 485 million Internet users and 300 million microbloggers, according to the Ministry of Industry and Information Technology, and is increasingly characterized by free-wheeling, sometimes rumor-driven content. "China's state media feels challenged by the Internet—by private sector entrepreneurs like Sina," says Duncan Clark, chairman and founder of Beijing-based telecom and Internet consultancy BDA China.
And while seeking outside capital at one time was taboo for state media companies, "they have mustered enough political capital to make something like this happen," says Clark. "But that doesn't mean that what comes out of it will be any good. Even if they list, can they get the talent [to improve content and delivery]? People will be asking, why work there instead of at a Tencent or Sina?"
People.cn's main website was only the 50th most popular in China as of August last year. New York-listed Sina was then No. 4, while Sohu was seventh, according to data from Chinarank.org.cn, which was cited in the listing prospectus.
"If they don't push ahead and change themselves, they run the risk of becoming irrelevant. And online is the game now," says Clark. "They have a lot of political capital, but their ability to make anything out of it is another issue."
Before it's here, it's on the Bloomberg Terminal.
LEARN MORE