business
A Ceasefire in the Lego Gender Wars?
By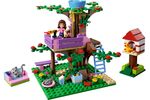 Throw enough bricks around and you're bound to break a window—or at least get some attention. That's the main (and perhaps only) lesson to be drawn from the quest by a pair of feminist activists to get Lego to answer for the apparent sin of launching Lego Friends, a line of toys aimed at girls. Lego Friends features, among other things, pink-colored blocks and a character who aspires to be a fashion designer.
In December, Stephanie Cole and Bailey Shoemaker-Richards put up a petition on the website Change.org pressing Lego to change its marketing strategy. Cole and Shoemaker-Richards are affiliated with SPARK Movement, an organization that describes itself as a "girl-fueled activist movement" that advocates against the sexualization of women and girls in the media.
In their online petition, the women, both of whom are in their early 20s and are not parents, take Lego to task for introducing a "Barbielicious product line for girls." (For those unfamiliar with the gender wars in the toy aisle, the allusion to Barbie was not intended as a compliment.) Cole and Shoemaker-Richards claim that Lego Friends reinforces sexist stereotypes about girls and women: "5 year-olds can imagine themselves at the café, lounging at the pool with drinks, brushing their hair in front of a vanity mirror, singing, or shopping with their girlfriends." In an interview with Bloomberg Businessweek, Shoemaker-Richards elaborated on this point by saying, "We were sort of disappointed by the lack of imagination that went into it."
Judging from the 55,364 signatures the petition has garnered so far, there are many women (and some men) who think the activists are onto something. While Change.org makes adding one's name to such a petition as easy as approving the terms of service on a newly downloaded mobile app—or snapping together a pair of plastic bricks, for that matter—the speed with which the signatures piled up caught the attention of Lego executives, who agreed to meet privately with Cole and Shoemaker-Richards on April 20 in New York.
In an interview conducted a day before the meeting, Shoemaker-Richards said she hoped to get Lego to "engage with this gender marketing" and to "agree to invest in some better gender equity."
Investing in better gender equity is exactly what the Danish toymaker thought it was doing with Lego Friends. Lego spent more than four years and upwards of $1 billion to bring the line to market; it made its debut in Europe last year and hit U.S. shores in late December 2011.
Lego Friends is built around 29 minifigs (that's Lego-speak for the tiny characters that are now an integral part of most of its playsets). Among the cast of characters featured on Lego's U.S. website are Mia, who according to her bio enjoys playing sports with girls; Olivia, who likes inventing things; Stephanie, an animal lover; fashion maven Emma; and Andrea, who counts singing and dancing among her interests. Does this gaggle of girls—who are in fact skinnier and curvier than most of Lego's standard, boxy minifigs—have room for a future physicist or captain of industry? Who knows. It's not clear that the boy-oriented ninjas and Jedi warriors do, either, but the role-playing has been shown to get more boys interested in building.
Lego, in an e-mailed statement, characterized the Lego Friends launch as "very successful." Spokesman Michael McNally said, "We ended 2011 with U.S. sales being 90 percent boys and 10 percent girls. From January to beginning of April, we have moved that to 75 percent boys and 25 percent girls in the U.S."
When asked what kind of concrete actions Lego could take that would please feminist activists like herself, Shoemaker-Richards said the company might consider building a product line around a franchise like Avatar: The Last Airbender, a Viacom International anime-style cartoon series whose latest installment revolves around a female character named Korra. Episodes of the series available on Nickelodeon's website reveal Korra to be a martial artist. She is muscular, yet generously endowed. From the looks of it, she can mix it up with any black belt. Apparently for Shoemaker-Richards, who says that she still enjoys playing with Legos from time to time, the road to girl liberation begins with kickboxing.
Before it's here, it's on the Bloomberg Terminal.
LEARN MORE