Who's Fastest? Google Measures Web Speeds Around the World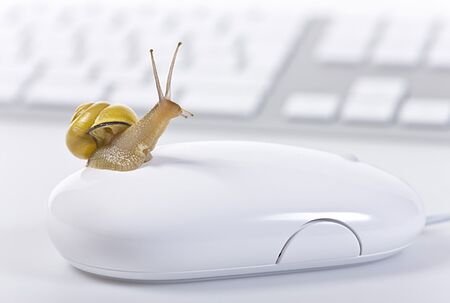 Photograph by J.-L. Klein & M.-L. Hubert/Photo Researchers Inc.
If you feel the need for online speed, log on in the Slovak Republic or South Korea.
Earlier this month, Google measured Web page load speeds on desktop computers and mobile devices in 50 countries with the fastest Internet connections.
When it came to the fastest average time for loading Web pages on a desktop computer, the Slovak Republic was tops at a speedy 3.3 seconds, Google said. Meanwhile, South Korea was the zippiest in mobile with an average loading time of 4.8 seconds.
So, who were the laggards? The slowest was Indonesia, which had an average Web page loading speed on desktops of 20.3 seconds. In mobile, the United Arab Emirates had an average Web page loading speed of 26.7 seconds, putting it in last place.
The U.S., meanwhile, was somewhere in the middle. On the desktop, it took an average of 5.7 seconds. On a mobile device it took 9.2 seconds to load, which for many folks here, feels like an eternity.
Top 10 in Desktop Speeds (in seconds)
Slovak Republic (3.3)
South Korea (3.5)
Czech Republic (3.7)
Netherlands (3.9)
Japan (4)
Denmark (4.3)
Switzerland (4.3)
Sweden (4.5)
Belgium (4.6)
Norway (4.8)
Bottom 10 in Desktop Speeds (in seconds)
Chile (10)
Colombia (10.2)
Peru (11.7)
Brazil (11.8)
Argentina (12.8)
Malaysia (14.3)
Venezuela (14.9)
India (15.1)
Philippines (15.4)
Indonesia (20.3)
Top 10 in Mobile Speeds (in seconds)
South Korea (4.8)
Denmark (5.2)
Hong Kong (5.9)
Norway (6)
Sweden (6.1)
Estonia (6.2)
Czech Republic (6.3)
Japan (6.4)
Romania (7.5)
Slovak Republic (7.6)
Bottom 10 in Mobile Speeds (in seconds)
Malaysia (12.7)
Indonesia (12.9)
Singapore (12.9)
Mexico (14.1)
Brazil (15.8)
Argentina (16.3)
India (16.4)
Thailand (17.4)
Saudi Arabia (21.2)
United Arab Emirates (26.7)
Before it's here, it's on the Bloomberg Terminal.
LEARN MORE