The End of China's One-Child Policy?
A group of demographers is calling for the end of the one-child policy
By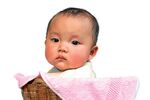 Molly Zhang, a 31-year-old account manager in the lighting industry, just had her second son. Now she has to pay a fine likely to total 30,000 yuan ($4,760), roughly equal to her annual salary, for violating China's one-child policy. "Even for an average white-collar worker in Dongguan, this is a lot of money. But I didn't want to have just one child," says Zhang, adding that paying the penalty is necessary to get her child a household registration document, without which education and employment would be impossible.