The Economic Vision of Egypt's Muslim Brotherhood Millionaires
Once condemned as violent extremists, the Muslim Brotherhood has emerged as Egypt's dominant political force. Now the group's leaders are setting out to rebuild the country's economy—one businessman at a time
By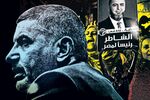 Hassan Malek lives in Heliopolis, an upper-class neighborhood in Cairo full of high-end shopping malls, Italian restaurants, modern apartment buildings, and ornate villas. Much of Cairo is chaotic, crowded, and poor, and Heliopolis's broad, manicured avenues create an atmosphere of exclusivity and privilege. It was likely jarring when, early one morning five years ago, policemen barricaded Malek's street, ransacked his home, and threw him in jail. This was what the Mubarak regime did to men like Malek, who was not only a member of the Muslim Brotherhood but also very rich.
"They allowed me to reach a certain level, but there was a ceiling," says Malek, 53, who as the chairman of the Malek Group runs the Egyptian branches of a Turkish furniture company, Istikbal, and a clothing brand called Sarar. Mild-mannered and serious in conservative suits, Malek would easily blend in with the Wall Street crowd.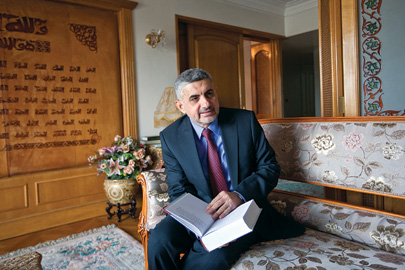 He calmly recalls how a state security official once told him, "You always come close to the red line." Malek recounts: "And I said, 'Okay, what is it so I don't come near it?' And he said, 'That's why we bring you to prison. To know it.' "
"But what the country needs now is to look ahead," he says on a Sunday evening in March. "We don't want to settle scores. We bear the responsibility now."
Malek is sitting in the same Heliopolis apartment that had once been destroyed by the police. On one wall hangs a large, brown stretch of leather engraved with the 99 names of Allah; the rest of the furnishings are modest, most of them Istikbal, the brand he sells. As Malek talks, his 26-year-old son passes out chocolates; his 16-year-old daughter displays a drawing she's done of a woman with long hair; Malek's wife laughs about the family's two vacations since her husband's release. Another son plays peek-a-boo with Malek's tiny granddaughter, who runs around squealing.
The Maleks are all the same: humble, idealistic, and self-possessed. With their polished looks and dutiful pledges to rebuild Egypt, the family gives off an earnest, "ask not what your country can do for you" vibe, as if dispatched from a less cynical era. They are part of a generation of religious conservatives ascendant in the Muslim world, whose devotion to God invigorates their determination to succeed in business and politics. As Malek says, "I have nothing else in my life but work and family." These Islamists pose a formidable challenge to secular governance in countries such as Egypt—not only because of their conservatism but because of their work ethic, single-minded focus, and apparent abstention from sloth and sin. They're up for winning any contest.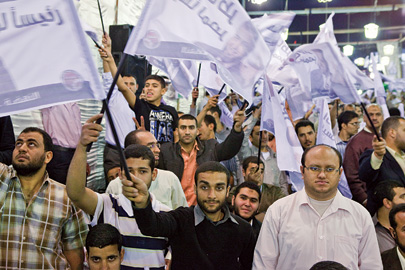 One year since the revolution that toppled Hosni Mubarak's government, Egypt's former pariahs have become the country's newest elite. Last fall the Muslim Brotherhood won 50 percent of the seats in the parliamentary elections. A few weeks ago the Brothers' political arm, the Freedom and Justice Party (FJP), nominated Khairat el-Shater, the former deputy supreme guide of the Brotherhood and its de facto leader, as the party's presidential candidate. Malek and el-Shater are business partners who spent more than four years in jail together until their release after the revolution. On April 17, Egypt's electoral commission permanently disqualified el-Shater and nine other prospective candidates from the race, declaring el-Shater ineligible because of a prior criminal conviction. El-Shater says he will back the candidacy of Mohamed Mursi, FJP's chairman.
Regardless of the election wranglings, men like el-Shater and Malek, both millionaires, are likely to form the leadership core of the Muslim Brotherhood—acting, in the words of Kent State University political scientist Joshua Stacher, as the organization's "neoliberal face." These Brothers of the 1 Percent believe they can empower a new class of businessmen—those Egyptians who didn't have clout during the Mubarak era—while also improving the lives of poor Egyptians and attracting investment from abroad. Their model resembles that of Turkey, where a religious middle class, encouraged by the country's Islamic government, has driven a spectacular economic boom. But talking the language of growth is one thing; making it real in a country whose economy is as ravaged as Egypt's is another. As Ihab el-Fouly, a businessman who isn't a member of the Brotherhood but works with Malek on economic issues, says: "This is make-it-or-break-it time for Islamists."
 
 
To many liberals who ignited the revolution, the rise of the Muslim Brotherhood has been the cause of anxiety. When a Brotherhood delegation visited Washington this month, its members said they don't intend to use their newly won power to impose their values on others. Still, some Egyptians say they can never be sure of the group's intentions. Since its founding in 1928, the Muslim Brotherhood's secretive, international Islamic network has functioned like a parallel society: Richer members provided poorer members with food, medicine, and clothing through financial donations, or zakat. Millions of Egyptians benefited from the Brotherhood's social networks. The Brotherhood sometimes engaged in violence, which they have since renounced. The group's main goal was to create a community that follows the dictates of God's law. One of its slogans is "Islam is the solution."
During Mubarak's tenure, the Brothers were officially banned. At the same time, the group's existence served a convenient purpose, allowing Mubarak to argue, to both his Washington backers and the Egyptian public, that his dictatorship was all that stood in the way of a fundamentalist takeover.
Meanwhile, the Mubarak years saw the emergence of a thuggish clique of businessmen and politicians who stole from ordinary Egyptians, 40 percent of whom live on less than $2 a day. Only those with political connections could scale the economic ladder. A bloated subsidy system still provides Egyptians with discounted necessities such as fuel, which benefit the magnate who hangs out in Monaco more than the slum dweller in Cairo who picks through trash. Today unemployment is 12.4 percent, and as much as 40 percent of the economy is informal, or illegal, some economists estimate. Manufacturing has eroded in the last 20 years, and the economy has become service-oriented and stratified. Then there's the military, clinging to both state rule and its vast business interests, which make up anywhere from 10 percent to 45 percent of the economy.
As stagnant and unequal as Egypt's economy was under the old regime, it has worsened since the revolution. Construction and private enterprise projects have stalled, international reserves are dwindling, foreign donors are withholding investment, and tourism has plunged. GDP growth has slowed since the revolution: Last year it was $235.7 billion, and the IMF projects that it will rise to $252.5 billion this year. The political situation is in constant turmoil. It's precisely the specter of chaos that makes the Muslim Brotherhood, in the eyes of many Egyptians, appear the least of many evils. They're organized, their supporters say, and have a plan.
"The problem with the past regime was not the failure of the ideology but the implementation of it and who benefited from it," says Magda Kandil, executive director of the Egyptian Center for Economic Studies. "This is what led to the revolution: People were getting poorer in the context of a growing economy. The Muslim Brotherhood understands the economy, and their vision seems on the right track. They have the longer vision, whether you like it or not."
 
 
One Saturday evening in March, Malek made his way to the Dusit Thani, a luxurious Thai hotel in a wealthy part of Cairo. He was there to launch the Egyptian Business Development Association (EBDA). More than 700 Egyptian and international guests attended the gala, including chief executives from Saudi Arabia, Turkey, and the U.S., as well as old-guard, non-Brotherhood Egyptian financiers. One businessman remarked that this was the first time he'd seen so many Islamists at such a gathering. The gala was the coming out party for the businessmen of the Brotherhood.
"The core of the economic vision of Brotherhood, if we are going to classify it in a classical way, is extreme capitalist," says Sameh Elbarqy, a former member of the Brotherhood who parted ways with the group after he disagreed with its refusal to register as an official nongovernmental organization, which would have forced transparency.
The FJP's agenda emphasizes economic freedom. It claims to protect competition and prevent monopolies, which are against the tenets of Islam. The FJP says it would channel religious donations into official charities and use those funds to assist the poor, something the Brotherhood has already been doing for decades. It plans to address poverty, unemployment, and Egypt's weak infrastructure through major (likely private) development projects in tourism, agriculture, and technology.
"Our vision is to become the pioneering institution that pushes the economy for a better standard of living," Malek said in his speech at the gala. The goal of the new association, he said, would be to aid small and medium-size businesses, help young businessmen, and offer vocational training. EBDA resembles the business organizations of Turkey, which support and have benefited from the 10-year rule of Prime Minister Tayyip Erdogan.
Malek has spent the last year reading about successful Asian economies such as Singapore and Malaysia, as well as the works of Galal Amin, an economist and critic of Egypt's economic policies and the Western influence on the country. Amin's most famous book is called Whatever Happened to the Egyptians? Malek says that while it's helpful to understand the progress of other countries that were once in Egypt's position, he believes the country will have to develop a model specific to its own flaws and strengths.
Malek was raised in a middle-class Cairo neighborhood near the Al Kobbah presidential palace. His father, who owned a textile factory, grew up next door to Hassan al-Banna, the founder of the Brotherhood. The elder Malek joined the fledgling Islamist organization early on. Hassan Malek was named after al-Banna. When Malek was seven, his father was arrested along with other Brothers. "We were a small family, so I started to bear responsibility because my father was in prison," Malek says. "I was the one who absorbed the ideas of the Brotherhood the most."
Malek was further politicized by the mass riots of 1977, which came in response to President Anwar Sadat's unpopular policy lifting price controls on bread. Sadat was trying to reverse the socialist policies of Gamal Abdel Nasser, attract foreign investment, and move closer to the West. Many Egyptians believe Sadat's "open door" policies devastated the economy. "Sadat called the riots the 'intifada of the thieves.' It was really poor people who needed bread," Malek says. Sadat's signing of the Egyptian-Israeli peace treaty—which the Brotherhood has opposed in the past but assures they will uphold in the future—was another galvanizing event for Malek.
Malek met el-Shater in college in 1978, when the latter was an instructor, and the two men became friends. While leading the student union at Alexandria University, Malek was briefly detained for student activism. In 1983, Malek and el-Shater founded a now-defunct software company called Salsabil as well as other businesses. They became steadily richer, and their money gave them stature within the Muslim Brotherhood. But Malek's companies were continually under siege from the government. "Every time there was an election or something where the Brotherhood could have influence, they would shut them down," he says. He was imprisoned two times.
Finally in 2007 the Mubarak regime froze Malek's assets and put him in jail for his longest stint. He was charged with money laundering and funding a terrorist group, which Malek still denies. The government never substantiated the charges. "They prevented us from talking to people," he says, smiling, of the years he spent with el-Shater in the same cell. "As if the most dangerous thing was for anyone to talk to the Brotherhood." In jail, he memorized the Koran.
Meanwhile, his seven children, who were at home when the authorities tore apart their apartment and arrested Malek, were growing up without their father, just as Malek had grown up without his. His young daughter posted videos online showing her crying and pleading for his release.
"We learned how to be responsible whether my father is present or not present, so our life didn't change that much after the revolution," Malek's 26-year-old son, Omar, says. "Four and a half years is enough time to grow up. We have 400 employees in our company, and you have to make the workers keep working. Before the revolution you were just thinking about your own company. Now you are thinking about the whole country."
Public reaction to Malek and others in the Brotherhood turned after the revolution. It used to be that "whenever anyone found out what family I married into, they were like…" says Amina, Malek's 21-year-old daughter-in-law, miming a terrified retreat. "Friends strayed away." A nursery school teacher who dresses in jeans and a hijab or traditional head scarf, Amina says that after the revolution, "the reaction was amazing. People congratulated me. They apologized. They asked really funny questions, like girls would worry about whether the hijab would be imposed on them. But adults and professors really just wanted to know the truth, because they knew me, and they knew I wouldn't stand for anything ridiculous." Malek, who has been listening quietly, says: "The whole society was either afraid of us or didn't want problems by coming close to us."
Malek says non-Brotherhood businessmen are welcome to join EBDA. Those associated with the old regime and those tainted by corruption will not be invited. But some elite businessmen say they don't think men like Malek are sophisticated enough to transform Egypt's economy on their own. Malek, naturally, disagrees.
"I have many plans," he says. "When I was in prison and [Hosni Mubarak's son] Gamal Mubarak was taking over, I was thinking of not working anymore and leaving the business to my children and doing charity work. But now I feel it is a responsibility to bring investors and build factories. The idea is not to amass money or build wealth as much as it is to develop the country."
EBDA has already been making contacts with foreign investors and government officials. Malek has met with diplomats and businessmen from Spain, Holland, and Turkey, as well as representatives from banks such as JPMorgan. Many peppered him with questions about the group's views on the hijab, alcohol, socialism, and whether they will "call everyone infidels," Malek says.
Foreign investment may not come if Egypt remains unstable. Its deficit is ballooning, and international reserves are dwindling. The military-appointed interim government in January requested a $3.2 billion loan from the International Monetary Fund, which seems poised to grant it provided the Brotherhood-dominated parliament accepts its conditions. Critics of the IMF such as political scientist Stacher say the conditions will keep Mubarak's neoliberal policies in place, benefiting the elites rather than ordinary Egyptians.
With Egypt's economic situation so dire, however, the IMF loan will likely be accepted. "We definitely need to borrow externally," says Kandil, the economist and former scholar at the IMF. "The terms of the loan are fair. What has not been good for the poor has been the way the economic policies have been managed since the revolution. In the absence of the loan things are very bad." She says the government has been borrowing at exorbitant rates and spending to appease a restive population but doing very little to support the private sector and create jobs.
"We will accept the loan, we don't have a preconceived position against the IMF," Malek says as the evening at his home draws to a close. "But we told them that we have to take into account the social dimension, that if you take out subsidies on energy and food, we have to take into account poor people. They have to listen to us. They can't impose on us conditions that are not good for Egypt. Our society should become self-reliant from now on."
In mid-April, a parliament committee representing the Brotherhood signified their acceptance of the loan. Representatives from parliament said they expect the funds to be dispersed after the presidential elections, which begin on May 23.
 
 
Despite its rabble-rousing past, the Brotherhood has recently faced criticism for cozying up to elements of Egypt's entrenched ruling classes. Will their government be, as some say, "just like the old regime, but with beards"? The Brotherhood was slow to join the January 2011 revolution and since then, one popular theory is that the group has been accommodating the military council, or SCAF, to consolidate power.
"The Muslim Brotherhood is reformist power, not revolutionary," says Elbarqy, the former Brotherhood member. "They have never taken a radical position against authority because they believe they should change gradually," he says. "But in reality the military is benefiting."
The question is not whether the Muslim Brotherhood will reject the old regime's market-oriented economic policies. That may have been the fear of Westerners who perceive the Islamists' conservative social values as hostile to economic liberalism. The Koran, however, supports free markets. What remains to be seen is whether the crony capitalism that characterized the Mubarak regime will change with pro-business Brotherhood leaders such as Malek and el-Shater in charge. Although the Brotherhood has traditionally worked to alleviate the conditions of the poor, "the working people and farmers will suffer because of this new class of businessmen," Elbarqy says. "One of the big problems with the Muslim Brotherhood now—they have it in common with Mubarak's old political party—is the marriage of power and capital."
Kandil draws attention to one distinction between the FJP and the Mubarak government. "It's very easy to confuse their economic platform with the previous regime: private-led growth, free market economy, scaling down the role of government, empowering the private sector," she says. "The big difference is which private sector you are talking about. Previously the regime had its focus toward mobilizing investment, but the beneficiaries were those who were well-connected, brand names in the investment world. It didn't trickle down."
In the best-case scenario, a Muslim Brotherhood-led economy could open up opportunities to those who never had them, perhaps giving rise to an entirely new business class. "If they succeed in doing this, I think that will be the best model for the so-called private-led growth," Kandil says. "We can't just tax and subsidize—it's not sustainable."
According to Stacher, the political scientist, all of these ideas ignore the real story in Egypt: the military's stranglehold on the economy. Nobody knows how much of the economy the military controls, but Stacher points to the military's loan to the central bank of $1 billion last year as proof of its vast wealth. And, according to Stacher, military leaders have spent the last year "anchoring themselves" even deeper into the system. "If the Brotherhood is going to do anything," he says, "they will have to go through the military."
The Muslim Brotherhood has hardly been an example of transparency in the past. But Malek says it is determined to restore public faith in Egypt's leaders. "Anything that has any degree of lack of transparency causes doubts regardless of whether it is beneficial or not," Malek says. "How do you want us to impose something on our people without them knowing what it is?" Of the role that foreign governments, businesses, and investors will play in Egypt's future, he says: "We are willing to turn the page completely, even with America, but under one condition: that they too change the way they deal with our country and our people."
The months and years ahead will determine whether the Brotherhood's agenda creates broad-based, sustainable growth or merely benefits the 1 Percent to which men like Malek belong. The Islamists know they have to deliver. "If, one day, you see that we have become like the former regime," Malek says, "then, please, don't support us."
—With reporting by Mandi Fahmy