'Pastygate': Britain's Tories Face a Political Debacle
The British government's tax on pasties sets off "pastygate"
By and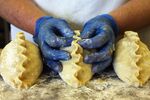 Local elections in Britain on May 3 will test the popularity of Conservative Prime Minister David Cameron's austerity budget. Right now it isn't looking good for the Tories. On March 21, Labour was ahead by five points, and the latest polls show it ahead of the Tories by 10 points, suggesting gains for Labour on local councils next month.
Some of the blame for the Tories' slump can be traced to Cameron's pasty (pronounced pahs-ty) problem. Pasties, hot Cornish snacks of meat and veggies baked in pastry, are a favorite grab-and-go meal. When Cameron and his finance minister, George Osborne, slapped a 20 percent tax on hot takeout snacks on March 21, they looked out of touch. Complaints poured in from bakers, including Greggs, the U.K.'s biggest bakery chain with 1,500 shops.
Then things got worse. Cameron assured reporters of his affection, even "love," for pasties. He recalled one he'd eaten at a stand at the Leeds railway station in Yorkshire. It turned out the stand had closed two years ago or more. Cameron's spokesman told reporters that the PM might have been confused on some of the details. Osborne didn't help when he told the House of Commons Treasury Committee that he couldn't recall the last time he'd eaten a pasty from Greggs. The Sun dispatched a model dressed as Marie Antoinette to hand out pasties in front of the Treasury office.
Pastygate, as it's now known, isn't Cameron's only concern. Labour claims a cut in the top tax rate only helps Tory millionaires. The press branded a freezing of pensioners' tax deductions a "granny tax."
For the average voter, it all adds up to a less-than-favorable impression of the government. David Davis, a former Conservative minister, told Radio 4: "They look at the front bench, they see them all very well-dressed, well-turned-out, well-fed, and perhaps feel that they're in a different world to them. That's a very dangerous allegation to make against a political party, if it sticks."
BOTTOM LINE -
The bottom line: Pastygate has become a hot issue for Cameron in upcoming local elections in Britain. The Tories are 10 points behind Labour.
Before it's here, it's on the Bloomberg Terminal.
LEARN MORE