High Oil Prices Cut the Cost of Natural Gas
The two markets are working at cross-purposes
by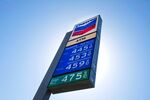 There's an unprecedented price gap in the energy patch. Oil has traded above $100 a barrel since February, while natural gas prices have dropped below $2 per million British thermal units—from $4.85 in June of last year. A divergence like this "has never happened before," says Duane Grubert, an energy analyst with Susquehanna Financial Group. The last time natural gas prices were this low, in 2002, oil was at $20 a barrel.
In a departure from their traditional relationship, high oil prices are helping keep gas prices down. Natural gas producers are cutting production in hopes of bringing down supplies and therefore increasing prices. The industrywide gas rig count fell by 23 last week, to 624, the lowest in 10 years, according to driller Baker Hughes. Yet production keeps growing. It is projected to average 69.2 billion cubic feet per day in 2012, up from an average 66.2 billion cubic feet per day last year, according to the Energy Information Administration. And supplies keep growing. The EIA predicts natural gas in storage will reach a record 4.1 trillion cubic feet by October, compared with 2.5 trillion cubic feet now.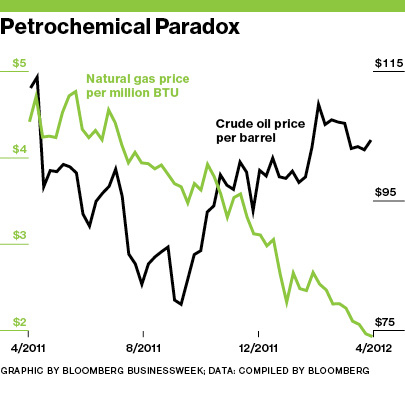 One reason: Oil drillers produce gas as a byproduct, and with oil prices high, oil drilling is in gear. "It's very attractive to drill for oil, so that will continue," says Grubert. "Associated gas from oil wells will offset reduced drilling specifically for natural gas." The warm winter, which reduced demand for natural gas used for heating, also helped keep supplies high. Gas pumped as a byproduct of oil and other liquids will represent 75 percent of the increase in natural gas production this year and as much as 90 percent next year, according to Barclays research. Such byproducted output, as it is called, will probably keep rising as long as oil remains above $75 a barrel, the bank says.
The gas glut comes as the industry is banking on the future of hydraulic fracturing, or fracking. The American Natural Gas Alliance reckons that the boom in the exploitation of shale natural gas could represent 60 percent of U.S. natural gas production by 2035, compared with 27 percent in 2010. But that prediction assumes natural gas prices will be high enough to make fracking profitable. When ExxonMobil announced its $41 billion acquisition of fracking specialist XTO Energy in December 2009, natural gas was at $5.33 per mbtu. The U.S. Department of Energy had forecast an average price of $3.17 per mbtu for 2012.
Seven Canadian natural gas producers have seen their credit lines reduced because of the falling value of their natural gas reserves. Less credit means less money available to invest in exploration and drilling. Shareholders are feeling the pain as well. Chesapeake Energy, the second-largest gas producer in the U.S. after ExxonMobil, has seen its stock fall 50 percent since August 2011. Shares of Canada's largest producer, Encana, have fallen 50 percent in 11 months. The price of natural gas is "ridiculously bullish for U.S. consumers," says Raymond James analyst J. Marshall Adkins. "But the producers? At $5 natural gas, everyone was making great money. At $2, it's hard to make any profit."
Before it's here, it's on the Bloomberg Terminal.
LEARN MORE