Has CNN's All-News Strategy Become Old News?
The granddaddy of cable news programming relies on death and disaster to prosper
by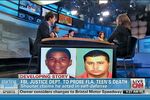 A sketch on the April 14 Saturday Night Live mocked CNN host Piers Morgan's attempt to "desperately grasp at straws" in his efforts to cover the case of Trayvon Martin by "talking to lesser officials and tangential celebrities." While the spoof was played for laughs, not everyone at the Time Warner all-news unit was feeling the joke.
In an era when Americans increasingly turn to laptops, smartphones, or iPads for routine news and headlines, CNN continues to rely on the business it virtually invented on cable: covering breaking stories. Events like the O.J. Simpson trial, the Japanese tsunami, or the weeks of protests over the killing of Trayvon Martin by a neighborhood watch volunteer can be counted on to receive blanket coverage on the network. "Our bread and butter is in-depth coverage of breaking news," says CNN Worldwide Managing Editor Mark Whitaker. "We have faith that will help us with the ratings."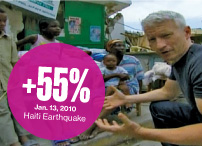 More than rivals Fox News and MSNBC, CNN relies on "the story" to drive its audiences, rather than opinions or personalities, says Whitaker. It's a strategy that works well when news breaks: CNN's 25- to 54-year-old prime-time audience (the most coveted by advertisers) topped Fox's and MSNBC's when music stars Whitney Houston and Michael Jackson unexpectedly died and when Osama bin Laden was tracked down.
When the big news stories subside, however, CNN slumps back down to third place in the ratings. Fox News surpassed CNN as the overall No. 1-rated cable news station in January 2002 and has held the crown since. MSNBC's prime-time lineup has topped CNN in the 25-to-54 audience for three consecutive years. "In the old model, breaking news was the lifeblood of cable news networks. But chasing one legal story after another, we found we didn't have an identity," says Phil Griffin, president of MSNBC, which now relies heavily on political analysis and personalities such as Rachel Maddow. "Today the lifeblood is being true to who we are. CNN is the place for breaking news. Unfortunately, you become totally dependent on it."
Over the past 15 years, CNN's average prime-time TV audience among 25- to 54-year-olds has slipped 6.2 percent, to 226,000, according to Horizon Media. Fox News is averaging 425,000 in the same demographic, 88 percent higher than CNN. Still, advertisers know there will be certain days when viewership on CNN will spike. On the day of the Japanese tsunami, for instance, ratings jumped 337 percent, according to Nielsen. The problem for cable networks is that they can't quickly monetize surprising news events that bring in huge audiences. Networks sell up to 70 percent of their total advertizing time nearly a year in advance, according to Brett Harriss, an analyst at Gabelli & Co. The remaining ad inventory is held back and sold at more expensive rates, often up to 15 percent higher, to companies that want to take advantage of unexpected news.
Yet even these ads must be created and inserted into available slots before they can hit the airwaves, says Lyle Schwartz, a managing director at media-buying firm GroupM, a division of WPP, the largest U.S. advertising company. By the time they're ready to go, the breaking news may already be over.
Another negative: Tragedy and advertising make for uncomfortable bedfellows. Airlines, for example, have provisions that prevent news programs from running their ads during coverage of plane crashes. Breaking news of hostage situations is also frequently uninterrupted, which means CNN's highest ratings can occur at times when no ads are run at all, Schwartz says. "The consumer would not like being interrupted with advertising when there's something important or urgent going on," he says. "It's sometimes inappropriate to have commercials."
Greg D'Alba, CNN's president of news and Turner digital ad sales (which also handles CNN's websites), says advertisers understand there are a few events each year that bring in millions of viewers who ordinarily wouldn't watch cable news, and they buy accordingly. Also, the network can use its breaking-news-boosted ratings data as leverage when it negotiates new, higher fees from pay-TV companies such as Comcast and DirecTV to carry its programming. CNN combines its ad sales with Time Warner-owned HLN, a headline news channel, and will take in about $581 million in ad revenue this year, estimates research firm SNL Kagan. Fox News will get about $729 million, figures Kagan.
CNN and other networks can be more nimble with their websites, capitalizing on jumps in traffic by selling new ads or sponsorships that kick in within days. "CNN's primary differentiation is the ability to connect multiple screens," says D'Alba. "More than 80 percent of our advertisers buy both TV and digital. That's unlike virtually any other service out there." Rivals are gaining there, too. CNN.com led MSNBC.com in unique Web visitors for much of 2011 but has trailed the NBC News-linked website in every month since December, according to Comscore.com. Both sites top Foxnews.com.
CNN's TV news strategy may have helped it lately. Its ratings jumped more than 20 percent among 25- to 54-year-olds in 2011. The network's prime-time ratings within that demographic beat MSNBC in the first quarter of 2012 for the first time in a year. And CNN's decision to stay with the Martin case triggered a recent jump in ratings when George Zimmerman was charged with second-degree murder.
But such draws can't be counted on. "There aren't many breaking news stories that people want to dwell on to change their day's routine or conversation," says Ken Doctor, a media analyst for Outsell and Newsonomics. "It's so easy to get news now. When you build an hour around a person, that's more effective than building around news programming itself."
Before it's here, it's on the Bloomberg Terminal.
LEARN MORE