business
Google-Motorola Deal Is No Simple Matter for China
By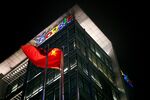 Google's "Don't Be Evil" image got a boost in 2010 when the company picked a fight with the Chinese government over the regime's censorship policy. Fed up with alleged hacking of its computers by Chinese, the U.S. company announced it would no longer follow government rules censoring search results. Google started to redirect search queries to Hong Kong, where the "One Country, Two Systems" principle allows companies to be free of the sort of censorship rules that apply to the rest of China.
Even Google, though, can't afford to make long-term enemies with the leaders of the world's second-largest economy. Case in point: Google needs to secure antitrust approval from various regulators around the world for its proposed $12.5 billion purchase of Motorola Mobility, the company announced in August 2011. The U.S., the European Union, and Korea have all given their blessing. Just guess which country still hasn't. China's Commerce Ministry is the only regulator still looking into the deal. At his regular meeting with reporters on April 17, China's Commerce spokesman Shen Danyang wouldn't offer any further comment or provide any additional details on when their review might conclude.
Google is being conciliatory. "We continue to work closely with regulators in China on their review of our planned acquisition, which will enhance competition, bringing consumers faster innovation and more choice," Google spokesman Taj Meadows told Bloomberg News in an e-mail in March.
As Google waits for a green light from the Chinese government, there are unconfirmed reports in the media about how a Google-Motorola deal would benefit a Chinese company that has had its share of setbacks from U.S. regulators. The Wall Street Journal on April 10 reported on speculation of a deal between the U.S. search giant and the Chinese tech company Huawei Technologies. "From Asia, rumors have swirled around the handset business, suggesting that Google has already offered it to China's Huawei at a high price," the Journal wrote, adding that a person close to Google denied there were talks about handsets. A Google spokesperson declined a Bloomberg Businessweek request to comment.
A Motorola deal might help Huawei diversify away from its roots as an equipment maker and instead become more of a consumer brand. But given widespread concern among lawmakers in the U.S. about alleged connections between Huawei and the Chinese government, the company would probably have a hard time winning approval for a deal. My colleague Ashlee Vance and I wrote about Huawei's challenges in the U.S. last year, which included a failed attempt to purchase 3Com with Bain Capital in 2008. Since that article came out, Huawei suffered another setback in the U.S., with the Department of Commerce barring Huawei from participating in a nationwide emergency network because of "national security concerns," Commerce spokesman Kevin Griffis said in an e-mail to Bloomberg News last October.
Any major move by Huawei would subject the company to further scrutiny, with the government's Committee on Foreign Investment in the U.S. (CFIUS) having to weigh in. CFIUS was an obstacle in another Huawei failure—its attempt last year to buy 3Leaf. Kaye Scholer partner Farhad Jalinous, as reported in The Deal and reprinted on the law firm's website, says: "Huawei's very rich history with CFIUS guarantees that a deal would be looked at skeptically."
Google, meanwhile, is still waiting. Having made no friends in Beijing after its high-profile fight against Chinese censorship, the company has reason to be worried. Still, there are limits to what China can do against Google. China can make do with Baidu as a search alternative to Google, but when it comes to mobile phones, there's no comparable Made-in-China alternative. Android dominates the Chinese market, with more than 68 percent of smartphones in the country using the Google-developed operating system, the official China Daily newspaper reported on April 13, citing data from Beijing-based Analysys International.
Before it's here, it's on the Bloomberg Terminal.
LEARN MORE