For London Developers, Light Is a Heavy Burden
Due to a 12th century law, British buildings must avoid blocking light
by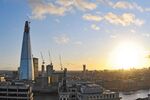 Real estate developers have long dealt with arcane construction rules and zoning restrictions. Builders in Britain have a particularly vexing challenge: a 900-year-old requirement that any new construction maintain a candle's worth of sunlight for neighboring properties. U.K. landowners have had rights to natural light from the oft-overcast sky since the 12th century. In 2012, developers are paying dearly for casting shadows on nearby structures after a 2010 court ruling that the part of a building obstructing a neighbor's natural light could be torn down.
The ruling has spawned architectural changes and construction delays, complicating central London's skyscraper boom. "I'm wondering at what stage we say this isn't relevant for today," says Colette O'Shea, London development chief for Land Securities Group. "It started hundreds of years ago when everything was lit with candles."
Land Securities' 37-story tower in London's financial district, nicknamed the Walkie-Talkie for its rectangular-block design, could have turned into a zigzag had light concerns not been settled through lengthy negotiations with neighboring landlords, O'Shea says. "We negotiated the rights of light, and then we hit the recession," she says of the 20 Fenchurch St. tower. "When we restarted work, we had to renegotiate everything because" the court ruling in 2010 "moved the goal posts again."
The right to a candle's worth of natural light, which should be bright enough to read a newspaper during the day, dates back to 1189. The present-day standard was set in the 1920s by engineer Percy Waldram, who estimated the English sky in winter still had the lighting power of 500 candles. Waldram's calculation means 0.2 percent of the sky must be viewable from at least half of a windowed room. Less than that and a building owner may have breached what lawyers call the "grumble point" where a light-deprived neighbor could gripe.
To avoid legal wrangling, London developers get advice from lawyers and surveyors even before picking an architect. The Shard skyscraper, Western Europe's tallest building, topped out last month at 87 stories and dominates the central London skyline, overshadowing landmarks such as St. Paul's Cathedral and Tower Bridge. Before a single shovel could pierce the ground, the developers had to carry out about 300 consultations on the tower's effect on neighboring buildings, including how much scarce sunshine the Shard would block.
Compensation deals are typically negotiated informally between developer and neighbors, with the outcome often dependent on the strength of their relationship, according to Alistair Redler, a right-to-light specialist at property surveying firm Delva Patman Associates in London. "Most people are managing to get deals done, but we're having to work much harder for developer clients," Redler says.
Developers are less inclined to take risks with light following the 2010 case in which a developer in Leeds was told by a court to pay more than 10 times what it had initially offered to a nearby property owner or face tearing down two floors of a building. Originally, the developer, a unit of property fund manager Highcross, had offered £20,000 to Marcus Heaney, who rejected the deal. The U.K. court estimated Highcross should pay £225,000 for the rights or change the already-constructed building at a cost of as much as £2 million. The case settled before it could be heard on appeal. "Developers can still make a profit on developments, just not as much," says Matthew Baker, Heaney's lawyer at law firm Pinsent Masons.
Tall, slender towers like the Shard are best for avoiding the light issue altogether "because you can get quite a lot of light around them," says Jerome Webb, partner at architectural advisory firm GIA in London. "It's really all about the shape of the footprint, where a small change can make a big difference." Using three-dimensional computer analysis, advisers model an "iceberg-shape area" for architects to work within that doesn't infringe on neighboring light, Webb says. "You can push a little bit here, little bit there, and the architect can take that away and work with it."
One way for developers to lessen their exposure to rights-to-light risks is to get the local government on their side. The City of London Corp. stepped in last year to help negotiations at Land Securities' Walkie-Talkie using powers granted in a 1990 town planning law. The regulation can be used to protect buildings from court orders banning continued construction, giving parties more time to reach a settlement. Simply mitigating such risks isn't enough, say some who question the need for a law mandating natural-light levels in an era of electric light bulbs and backlit computer screens. "The numbers are ridiculous and there's no consistency between different projects," Land Securities' O'Shea says.
The U.K.'s Law Commission, which is responsible for deleting outdated laws, is reviewing rights to light and is set to publish its initial findings next year. For now, negotiations on compensation are caught between the Heaney case and the possibility that the right to see the sky could soon be nullified. Baker says a developer described the situation to him "as a game of pass-the-parcel, and the one who wins the jackpot is the last person to be compensated when the law changes."
Before it's here, it's on the Bloomberg Terminal.
LEARN MORE