Finland Imagines Life Without Nokia
As the mobile-phone giant shrinks, its grip on the economy weakens
Kati Pohjanpalo and Diana ben-Aaron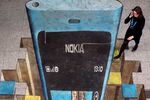 When your country is closely aligned with a single company, there can be wonderful highs. In 2000, Nokia was the world's dominant cell-phone manufacturer. When paradise ends, though, the consequences are brutal. Nokia's 94 percent share-price plunge from its 2000 peak has left thousands of engineers looking for work now that Nokia is curtailing local development and moving production to Asia. Nokia's share of gross domestic product probably shrank to 0.8 percent in 2011 from as high as 4 percent in 2000, according to Jyrki Ali-Yrkkö, an economist at Helsinki-based researcher ETLA. By the end of this year, Nokia's Finnish staff will have fallen 40 percent in six years, according to the Economy Ministry.
Nokia's smartphone business is being eaten up by Apple's iPhone and the Android handset makers. Its affordable phones for emerging markets are being undercut on price by Chinese rivals. Finns have shown their faith by buying Nokia shares. Finland's households now hold about 10 percent of Nokia stock, up from 5.4 percent two years earlier.
Yet there's a definite sense that Finland is over the worst of its Nokia shock. "Nokia has overshadowed the other industries here for years," says Petri Peltonen, who runs the innovation unit at the Economy Ministry. "It was sucking all the resources from the country. Now the presence is diminishing a bit."
One way for Finland to keep its reputation for cool stuff is through mobile games. Angry Birds took iPhone users by storm, and its creator, Rovio Entertainment, could be Finland's next big tech initial public offering, with a possible valuation of more than $1 billion. Total staff at Finland's 100 game companies will more than quadruple, to 6,500, by 2020, says Sonja Kangas, head of the Finnish branch of the International Game Developer Association.
The government is trying to attract data centers to old paper mills, touting an electricity grid that suffered downtime only once in 30 years. Google was the first taker, and IBM has followed. Intel this month opened a research facility near the capital city. Despite Nokia's cuts, the jobless rate fell from 8.5 percent in 2010 to 7.9 percent last year.
What's needed are businesses that can't be duplicated elsewhere or moved to Silicon Valley. Nickel miner Talvivaara Mining is among the new stars. The chemical industry accounts for about 20 percent of total exports, up from 10 percent in 2000. One company, Kemira, has come up with compounds that make tainted water drinkable.
Finnish shipbuilders have developed a niche making Arctic exploration vessels, icebreakers, and the world's biggest luxury cruise liners. Allure of the Seas, built in Turku and delivered in 2010 to Royal Caribbean Cruises, features a Central Park with 12,000 plants and trees, a surf simulator, and a 3D movie theater. The Nordic nation will bounce back, says ETLA's Ali-Yrkkö. "Finland's future growth will be like small streams merging into a river."