Elpida Is the Apple of Global Tech's Eye
Rivals covet Elpida's mobile chips and business ties to the iPad
Jun Yang and Naoko Fujimura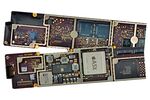 Elpida Memory filed for bankruptcy protection in late February. So how is it that the Tokyo-based chipmaker is now one of the hottest takeover plays in tech? While potential suitors ranging from South Korean and Japanese tech companies to U.S. private equity firm TPG Capital aren't much interested in Elpida's workforce or even most of its chip product, they do covet Elpida's unit that makes chips for Apple's iPad and iPhone. And they want to make sure their competitors don't get there first.
Korean semiconductor firm SK Hynix, the world's second-largest memory chip maker, announced its plans for a takeover offer on March 30, and may team up with Japan's Toshiba. TPG Capital also plans to make a bid, says a person familiar with the matter, as may Micron Technology, according to a report in Japan's Nikkei business daily.
Whoever snags the prize will inherit Elpida's chipmaking technology for mobile devices and perhaps be better positioned to take on Samsung Electronics, the world's largest memory chip maker. The mobile DRAM (dynamic random-access memory) business is "the only thing worth buying" among Elpida's assets, says Amir Anvarzadeh, a manager for Asian equity sales at BGC Partners. Elpida filed for bankruptcy after its main business, sales of memory chips for PCs, faltered along with much of the PC industry.
Buying Elpida, which has 448 billion yen ($5.5 billion) of debt on its balance sheet, is far from risk-free. An acquirer would have to spend $3 billion in capital investments during the next 12 to 18 months to make the company competitive again, Bank of America Merrill Lynch noted in a March 30 report. Elpida's creditors probably will seek at least $3 billion to $4 billion to recoup part of what's owed them. As a result, the company may only attract bids of about $2 billion or less, Bank of America concluded.
Elpida makes its mobile DRAM chips at its plant in Hiroshima, with 40 percent going to Apple, Anvarzadeh says. "Their mobile DRAM technology is perceived as good globally," says Park Hyun, an analyst at Tong Yang Securities. Apple overtook Hewlett-Packard as the world's largest chip buyer last year, according to Gartner, an IT research firm. Unlike DRAM chips for PCs, mobile DRAM chips are customized to the specifications required by device makers.
Micron had 7.3 percent of the mobile DRAM market as of the fourth quarter, according to researcher TrendForce. For Toshiba, which produces only NAND flash, a different type of memory chip, buying Elpida's DRAM assets would allow it to diversify into a fast-growing market, according to TrendForce. Officials from Hynix, Elpida, Toshiba, and Micron declined to comment on takeover speculation. The deadline for final bids for the company is April 27, a person familiar with the matter said.
Before it's here, it's on the Bloomberg Terminal.
LEARN MORE