Donald Trump's 'Success' Cologne Gets the Smell Test
By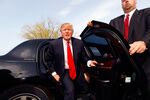 Donald Trump's new cologne smells like soap. Not bar soap exactly, more like a really nice men's body wash—the kind that costs $12 at the drug store instead of the generic $9 one. It's also reminiscent of a fashion magazine that contains too many perfume ads, such that the scents mix together until they're indistinguishable from one another. That's what Trump smells like. That is, assuming he actually wears his new $55 cologne, "Success."
Surprisingly, Success is not the most arrogantly titled celebrity perfume ever created (that would be Diddy's Sean Jean scent, "I Am King"). It also isn't Trump's first foray into cologne. In 2004 he partnered with Estée Lauder to launch "Donald Trump, The Fragrance," which, according to early press releases, contained "hints of mint, cucumber and black basil." Otherwise known as a salad.
This time, Trump worked with Five Star Fragrance and perfume creator Yann Vasnier for something slightly less edible-sounding: Success has tones of fresh juniper, iced red currant, coriander, tonka bean, birch wood, and musk. And unlike his original cologne, which proclaimed its namesake in all caps, this time the bottle has an understated label on which the word "Success" gets top billing over the "Trump" that's quietly printed below.
"Not everybody likes Trump," the salesman at Macy's explained when I purchased the cologne. "Some people, they see the name on the bottle and are like, 'Oh, I don't want to smell like him.' This scent really has to sell itself."
Is this true? Is Donald Trump's ridiculous hairdo, over-the-top reality show persona, recent fascination with President Obama's birth certificate, and unnatural pizza-eating technique overshadowing his attempt to sell a perfectly mediocre celebrity perfume? I decided to find out. I took my newly purchased bottle of Success and hit the streets of New York, asking people to smell it. The result was—well, less than successful.
"This smells like something they designed for males in the '90s," said Benedict Wahner, a tourist visiting from Berlin. "I think of those commercials with guys showering and they have short, black hair, I don't know what it's called." I don't either. Do they sell AXE body spray in Germany?
"It's not offensive," said Scoot MacPherson, 56. "I wouldn't mind if someone wore that around me, but I wouldn't buy it myself. Then again, I'm an old fashioned guy." MacPherson, who was wearing a tailored, tan-colored suit and reading a newspaper on a wooden displayer stick when I approached him, looked like what I imagine Donald Trump's target audience to be: the dignified businessman. "I love him," he admitted. "He's a businessman, and I like the way he thinks. To me, his name evokes wealth."
But of the dozen or so people I talked to, MacPherson was in the extreme minority. "This would go well on my dad," says Ester Livesey, 30, from Leeds, U.K. "It smells all right," her husband, Stephen, agreed. "It smells like a successful older man. But the name is cheesy. Every time I hear Donald Trump, I think about his hairdo."
The hair, and everything associated with it, turns out to be a major hurdle for Trump. I talked to two people who worked in fashion, and both said that a Donald Trump fragrance wouldn't put them off if it was well done—celebrities don't actually create their own scents, after all—but that his name had been diluted in recent years. What once implied "real estate mogul" now shouted "face of the birther movement."
"He needs to create a name for his perfume, like Roger et Gallet did, that people won't directly associate with him," said Bob Dana, 53, who designs men's suits.
Bob Schroeder, 50, from New York, agreed. "Donald Trump is hilarious," he said. "But if I had to smell like somebody, it would be Clint Eastwood."
Before it's here, it's on the Bloomberg Terminal.
LEARN MORE