Does It Pay to Study at State?
Louis Lavelle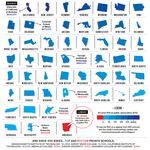 A college degree usually means higher pay than a high school diploma does, though some schools fail to deliver. After subtracting the cost of getting a degree, here's the average amount by which the average 30-year earnings of an alum of each state's public universities differ from those of a high school grad.
Before it's here, it's on the Bloomberg Terminal.
LEARN MORE