Crowdfunding Rules Now Up to SEC
by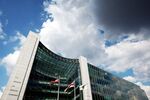 The future of crowdfunding is now in the hands of the Securities and Exchange Commission. When Congress passed the law making it legal to sell small stakes in private companies to the general public online, lawmakers left it up to regulators to determine the mechanics of how such transactions will actually work.
In the crowdfunding portion of the Jumpstart Our Business Startups Act, there are 22 places for the SEC to make rules, Karen Kerrigan, president of the Small Business and Entrepreneurship Council, said Thursday at the first Crowdfunding Conference in New York. That's just one section of the law. The agency, which raised concerns about aspects of the statute as it was debated, has 270 days from its April 5 enactment to make rules. That means they should be in place by Jan. 1, 2013. The SEC started taking public comments last week.
The commission will have to make rules for crowdfunding websites—"intermediaries" in the law's jargon—including, for example, what disclosures they must make to investors, how they'll make sure people don't invest more of their money than the law allows, and how they'll vet the people behind the companies selling shares.
For Kerrigan, who was among the law's most vocal backers, it means the SEC might tie up the industry in red tape. "There is a lot of opportunity for the SEC to do more regulatory damage, if you will, to this space," she told the conference.
The law puts a lot of new work on the table for securities regulators who are already behind on implementing the Dodd-Frank reforms, says Joan MacLeod Heminway, a law professor at the University of Tennessee who spoke on a panel with Kerrigan. It's not clear if the agency has the resources to police a new class of unregistered securities and the websites that will connect issuers and investors. Says Heminway: "I think the SEC's got a big problem on its hands."
Before it's here, it's on the Bloomberg Terminal.
LEARN MORE