Could Better Labels Shrink the Trade Deficit?
By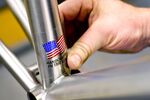 To improve the U.S. trade balance with China and other manufacturing powerhouses, tariffs and yuan appreciation will only do so much. Beyond improving the education system, the best bet may be to change Americans' shopping habits by letting consumers know whether the dollars they spend on everything from T-shirts to tire irons will help keep their neighbors employed—or go to businesses in countries with which the U.S. has an unhealthy trade balance.
That's the argument Alan Uke lays out in his new book, Buying America Back (SelectBooks, April 2012). It's a practical solution that's relatively easy to put into play, says Uke (pronounced "you-kay"), who insists he's not a protectionist or an isolationist. He wants to give consumers the full picture so they can "exercise their purchasing power in an influential way," he says.
Uke, the founder of San Diego specialty lighting manufacturer Underwater Kinetics, says an easy way to achieve this is to retool the consumer product labeling system. The Federal Trade Commission oversees "Made in U.S.A." claims, and the U.S. Customs Service requires that imports be marked with the name of the country of origin. At first glance, that would seem to be enough. But "Made in China" or "Made in Honduras" or "Made in U.S.A." can mean it was assembled in that country or "substantially transformed" in that country using components made elsewhere. That nuance is a big deal because, depending on the mix of components, the bulk of the money consumers assume to be going to one country may be going to others.
Uke wants country-of-origin labels to be redesigned so every consumer good sold in the U.S. shows where its components originate, what the U.S. trade balance is with the countries indicated, and the location of the manufacturer's headquarters. The new labels should be as consistent and as easily interpreted as the Food and Drug Administration's nutrition labels on food packaging, he says.
According to Uke, the information about a product's components is already collected by manufacturers for financial reporting and tax purposes. And the Census Bureau already gathers foreign trade statistics. Transparent labeling "raises all the ships," says Uke, who has collected endorsements from former U.S. Secretary of Commerce Carlos Gutierrez, AFL-CIO President Richard Trumka, National Association of Manufacturers former President Jerry Jasinowski, and consumer advocate Ralph Nader.
Why is a manufacturer such as Uke so keen to push through regulation? Once the new labels are in place, it will become clear that his 41-year-old company, which he says employs more than 100 and has "tens of millions" in annual revenue, uses parts from China and other Asian countries. "Perhaps I am like the protagonist of [the movie] The Insider, propelled by a combination of conscience and stupidity, in the sense of working against my own business interest," Uke writes in his slim book. "I want to see the American worker regain security and prosperity. I not only want to keep my factory here in America; I want to see more companies return, bringing jobs back with them." Of course, the labeling change could also help Uke's company with buyers who favor American-made goods because it would show that a high percentage of his products' value was added in the U.S.
Uke has experience turning his inner advocate's ideas into law. In 1993 he invented an auto emissions index that a few years later became mandatory for cars being sold in California. Today the information is required for every new car sold in the U.S. "There's nothing as powerful that the federal government has than informed consumers," says Uke.
Representative Brian Bilbray (R-Calif.), who helped push through Uke's emissions bill in the 1990s, says he would like to introduce legislation by yearend to make Uke's country-of-origin labeling system mandatory for consumer products in the U.S., though he's doubtful it will happen in an election year.
The devil will be in the details. "You may get into this issue that the Chinese may be sewing the [product] but the cotton is coming from India," says Bilbray. "The content value should probably be the issue we take a look at," he says, noting the legislation is a work in progress. "But it's mostly trying to give the consumer the information to make the decision they want to make. They may not want to even bother with it. But at least we'll know that Americans have that choice."
Before it's here, it's on the Bloomberg Terminal.
LEARN MORE