Coming Soon to Your Desktop at Work: Ads
New ad-supported programs for physicians, accountants, and more
by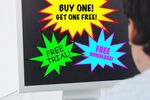 There has long been a divide between business and consumer software: Companies mostly buy licenses to use applications, while consumers often pay nothing and advertisers shell out money to reach them. Several startups have begun tearing down that divide by offering ad-supported business software. Rather than charging thousands of dollars for multiyear licenses and maintenance fees, these companies give away programs that manage medical records, monitor information technology networks, track revenue, and more. Such sites become "communities for practitioners, and that's very valuable for anybody selling to them," says Jeremiah Owyang, an analyst at Altimeter Group in San Mateo, Calif.
To reach such specialized audiences, companies are willing to pay far more than they do for ads on consumer sites. Practice Fusion, a seven-year-old San Francisco company that offers a free electronic medical records system used by 150,000 physicians and clinics, charges drug companies as much as $200 per thousand impressions—effectively page views—to reach medical pros. Sites such as Yahoo! and Facebook charge less than $10. It's "about influencing the behavior of really important, valuable decision-makers," says Zach Gursky, a former Yahoo executive and 20-year veteran of the advertising industry who oversees ad sales at Practice Fusion.

The approach has risks. Traditional business software companies such as Oracle and IBM can lock customers into contracts worth thousands of dollars per user, providing a predictable revenue stream. Free products, by contrast, are susceptible to changing ad budgets, which swing along with the economy. "An advertising model on its own is fairly hard to turn into a long-term profitable business," says Dave Whorton, founder of Tugboat Ventures, a venture capital firm that specializes in software. "You can't provide the same level of customer support you would if you have an annual contract."
Nonetheless, many businesses like the sound of free just as much as consumers do. Allan Treadwell, an internist in San Francisco, says older medical-record programs were "a constant cash drain." Five years ago he switched to Practice Fusion, which lets him store patient records, maintain his schedule, and electronically prescribe medications, all for the cost of seeing some ads. "Why wouldn't you use a free product if it's as good or better than something you pay for?" asks Treadwell.
Spiceworks has built an audience of almost 2 million IT pros who use the system to track and fix laptops, servers, and software used by company employees and also as a sort of Facebook for geeks. Spiceheads, as the company calls them, use the service to trade tips on technical problems and research new products. More than 200 companies, including Microsoft, Dell, and Rackspace, pay Spiceworks as much as $100 per 1,000 impressions to reach that audience. "It's a no-brainer, given their vast network of IT pros," says Calen Holbrooks, a Microsoft marketing manager.
Inspired by Spiceworks and Practice Fusion, Wave Accounting decided to do something similar with book-keeping software for small businesses. Since Wave started two years ago, 200,000 mom-and-pop shops have signed up, providing business-oriented eyeballs for companies such as Dell, American Express, and online storage provider Carbonite. "We make sure we're putting the right offers in front of them," says Kirk Simpson, chief executive officer of the Toronto company. "It's a very targeted ad sale."
Ryan Howard, CEO of Practice Fusion, says the free model wasn't his first choice. When he introduced the service in 2007, he tried selling it for $300 a month, far less than competing applications from Allscripts, Epic Systems, and McKesson. Even that, though, proved too high for cash-constrained doctors just making the shift to online software. A few months later, Howard dropped the price to zero, and he has no regrets. "We have tens of thousands of doctors logged in first thing in the morning," Howard says. For marketers, "it's the largest place you can go and reach the health-care community."
Before it's here, it's on the Bloomberg Terminal.
LEARN MORE