A Lazard Banker Is the Greeks' Financial Goddess
Lazard's Michele Lamarche helps Greece win concessions
by and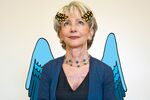 The schedule of Michele Lamarche, a Lazard banker advising Greece on its debt restructuring, is full of meetings that never happened, officially at least. On a Saturday morning in December, with efforts to cut Greece's €206 billion ($270 billion) debt in half stalled and a Greek bond payment looming, Lamarche and two colleagues secretly huddled at Lazard's Paris office with BNP Paribas adviser Jean Lemierre, a negotiator for Greece's private creditors, according to people involved in the talks. Out of that 30-minute meeting came a novel concept, called co-financing, that would eventually help jump-start the negotiations by putting Greece's private and public creditors on an equal footing. "This is what advisers do, reach out to creditors and try to unlock stalemates," says Lamarche. "Sometimes you need to sit down with the other side, talk bluntly and in total confidence."
Over a 30-year career at Lazard, Lamarche, 63, has negotiated such deals all over the world, always on the side of the debt-strapped sovereign. In Iraq, Argentina, the Ivory Coast, and now in the glare of Greece, Lamarche, short, thin, and elegant in Dior suits and Louboutin high heels, is among a small cast of advisers who show up around the table for almost every major sovereign-debt restructuring. With nations including Portugal and Spain struggling with high debt and sluggish economies, Lamarche's work is shifting to developed markets in Europe. "Michele Lamarche never got much publicity for her work," says Luce Gendry, an adviser at Paris-based mergers-and-acquisitions bank Rothschild who has known Lamarche since college. "Restructuring sovereign debt wasn't something that would make the headlines as much, and it wasn't her style to care anyway. Now it's grabbing everyone's attention."
With nations including Portugal and Spain struggling with high debt and sluggish economies, Lamarche's work is shifting to developed markets in Europe. And as the crisis widens, her team is becoming a bigger fee generator. Lazard, based in New York, will earn as much as €25 million in fees from Greece for advising it over the last two years, the Greek government disclosed in March.
The Greek deal was the most difficult negotiation of her career, Lamarche says, because of the number of European nations and institutions weighing in. She was joined by Lazard colleagues Matthieu Pigasse, head of Lazard's Paris office; Daniel Cohen, an economist; and Mark Walker, a former managing partner at law firm Cleary Gottlieb Steen & Hamilton who has worked on debt negotiations for five decades. During the talks, Walker earned a reputation for making aggressive demands, according to creditors, while Lamarche sought consensus. "I don't know if putting Michele and Mark together was intentional, but it worked because they are complementary," says Hans Humes, president of hedge fund Greylock Capital Management, who was part of the private creditors' committee negotiating with Greece.
The secret to a successful negotiation, Lamarche says, is to find creditors who seem willing to make concessions. "It's our job to identify the bondholders that are constructive and will be able to apply pressure on their more aggressive peers," she says. "Everybody has their own limitations, but at the end of the day, creditors are a sensible bunch." While compromise is her main tool, she's also a tenacious negotiator and can express exasperation to help her clients; a person who has sat across from her in debt negotiations remembers her storming out of a meeting for dramatic effect.
In the Greek deal, Lamarche's achievements included persuading nations and official institutions, such as Germany and the European Financial Stability Facility, to have the €30 billion they lent Greece as part of the debt exchange put on the same footing as new bonds issued to private investors. "Her true talent is her political instinct. In a stalemate, she'll be able to stand back, use her connections, and unlock the situation," says Lemierre.
"I think everybody realized how difficult those restructurings are," says Lamarche. "It always makes a return to the market much more difficult for a country." For that reason, "Portugal and Spain are making big efforts" to stabilize their finances, she says. "I hope an improving economic environment in the U.S. will help."
Born near Algiers, the daughter of a French colonel who fought in Algeria's war of independence, Lamarche was a teenager when her family fled by ferry amid attacks on Europeans in the summer of 1962. Although she "never felt the danger," Algeria gave her a taste for geopolitics. "I was a child thrown into a war, and I naturally got interested in international crises," she says.
While at the Paris business school HEC, she took part in the student riots in May 1968, finding herself jostled by the crowd and getting "the scare of her life" when demonstrators burned the stock exchange. She went on to earn an MBA at the University of California at Berkeley. After working at Bank of America for several years, in 1982 she joined Lazard's international department in Paris, which had been created by Helie de Pourtales, a partner who in the 1970s helped Indonesia restructure its debt.
After the late Bruce Wasserstein took over Lazard in 2002 and decided to have the firm concentrate on advisory work, Lamarche won assignments representing Argentina, the Ivory Coast, Gabon, and Iraq. "This department has become very important for Lazard," says Pigasse, a former French cabinet official who joined in 2002. "It gives us unparalleled insight into the European sovereign-debt crisis, and all the other businesses benefit. Unfortunately, I don't think the crisis is over. Europe's growth prospects are bleak."
That's something Lamarche knows firsthand. The banker, who has raised three daughters from two marriages, spent half her time outside France over the past year. She has no intention of retiring any time soon. "My job is fascinating intellectually, and it is amazing to help a country jump back on its feet," she says. Compared with negotiating on behalf of creditors, she adds, "the goal is so rewarding."
Before it's here, it's on the Bloomberg Terminal.
LEARN MORE