A Bad Year for Pandit, Good for Everyone Else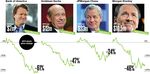 Citigroup shareholders rejected a compensation plan that would have awarded about $15 million to Chief Executive Officer Vikram Pandit for 2011, when the bank's stock fell 44 percent. While the vote was nonbinding, the pay plan will be revised. Other Wall Street chiefs got generous packages despite bad years for their stocks.
Before it's here, it's on the Bloomberg Terminal.
LEARN MORE