The DOJ's Publishing Lawsuit May Doom Digital Rights Management
by and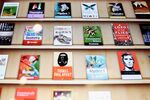 In the days following the announcement of the U.S. Department of Justice lawsuit against publishers accused of colluding with Apple to raise e-book prices, much of the U.S. publishing industry decamped to the U.K. for the annual London Book Fair. Not surprisingly, the suit was a major topic of conversation at cocktail parties and in booths across the Earls Court Exhibition Centre—in particular speculation about whether the DOJ suit might finally push big publishers to consider easing their requirements for digital rights management (DRM), the controls that keep e-book readers from being able to pass a copy of a title on to a friend.
Publishing-industry futurists—individuals typically far removed from the real-world calculations being crunched in publishers' accounting departments—have long argued that DRM inhibits e-book innovation and prevents small e-book retailers from entering the market and competing with the giant distributors (read: Amazon). In London this year, says Lorraine Shanley of publishing consultancy Market Partners International, more mainstream publishing executives are talking seriously about ending DRM restrictions. "It would allow individual publishers much more flexibility with their own content and in making it available directly to consumers," says Shanley. "And it would allow consumers to access content without getting locked into one device—e.g., the Kindle."
Some analysts say that's wishful thinking. In recent years the music industry has removed nearly all its DRM restrictions, yet that has done little to diversify the digital music market. Apple dominates, and Apple sets prices. "For consumers, Amazon regaining more market power could result in less choice among retailers down the road," says Michael Wolf, vice president of tech news website GigaOm. "Whether Amazon is benevolent or not in the long run, that's yet to be seen."
Most of the London trade-show visitors—and indeed many others in the business—say the lawsuit plays into the hands of Amazon and its boss, Jeff Bezos. Since the debut of the Kindle, Amazon.com has played a long game, losing money on both the razor (Kindle devices) and the razor blades (e-books) in an effort to establish the kind of dominant market position in e-books that Apple enjoys in digital music. The company sells Kindle hardware at virtually no profit, and it also lost money during the Kindle's first few years by pricing new releases and major bestsellers at $9.99, when it was paying publishers $15 or more for many titles.
For e-books published by Hachette, HarperCollins, and Simon & Schuster—the three houses that settled with the DOJ—Amazon will soon be able to start slicing retail prices again. That could boost Amazon's market share from more than 60 percent of the overall e-book market and put additional pressure on Barnes & Noble, which controls 30 percent. But it also could undermine Amazon's already thin operating margin just as the company is investing in long-term projects such as tablets, the Amazon Prime free shipping club, and its cloud computing initiative, Amazon Web Services. Analysts believe Amazon will start cutting nonetheless. "This is a very calculated move on Amazon's part," says Colin Sebastian, an analyst at RW Baird. "Their view is that Apple probably doesn't have the stomach to lose a whole lot of money on e-books and Barnes & Noble can't afford to. They will do whatever they can at this stage of e-books and Kindle to drive as much market share as possible."
Amazon will have to be cautious about cutting prices so dramatically that it forces book publishers to leverage what remaining clout they have left. Publishers could, for example, "window" e-books—delaying their publication for a few weeks after the release of the more expensive hardcovers. Simon & Schuster and Hachette tried this in the early days of wholesale e-book pricing, on memoirs by Sarah Palin and Edward Kennedy. (This strategy, though, could alienate customers and lead to increased e-book piracy.) Publishers could also experiment with packaging the e-book and the hardcover together, or they might pull DRM technology on e-books for the Nook, which could make Barnes & Noble's store more appealing to customers. Still, "it's hard to see how publishers find a way around Amazon in the market, unless Amazon blows it somehow," says Bill Rosenblatt of consulting firm GiantSteps Media Technology Strategies.
Whatever Bezos's overall strategy, Amazon won't be able to cut the price of e-books published by Penguin and Macmillan until the DOJ case is resolved—and that could take a while. Geoffrey Manne, an antitrust expert at the Lewis & Clark Law School, says the case could take years to resolve, in part because Apple has such a deep reserve of cash it could spend on the litigation. Meantime, the e-book market is likely to keep evolving rapidly. "In fact, one of the big problems with this suit, as with others in the tech realm," Manne says, "is that by the time it's concluded, the market is likely to have changed so much that it will have become irrelevant."
Before it's here, it's on the Bloomberg Terminal.
LEARN MORE