On Jobs Day, TV Reporters Can't Move a Muscle
By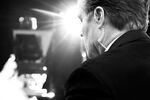 You know how reporters go on the air precisely at 8:30 a.m. Eastern time to deliver the good/bad news on U.S. employment the first Friday of every month? There's a story behind how that happens. I came across it today while looking into a new Department of Labor rule for the reporters who get the top-secret data early under "lockup" so they can prepare news stories.
It turns out that television reporters are allowed to get in front of their cameras at 8:28 a.m. so they'll be ready for their live shots. That puts them in touch with their control rooms, potentially breaking the seal of confidentiality surrounding the process. Anyone who got early word of the market-moving payroll number could make a quick killing in the stock market.
To enforce the all-important embargo, the Labor Department tells the TV reporters that they must be completely silent from 8:28 to 8:30 while they stand in front of their cameras. The only exception: To test their microphones, they are allowed to speak one code word or phrase, which changes each month. The reporters aren't even allowed to move, Labor spokeswoman Jennifer Kaplan says. No one can stand stock still, unblinking, for two whole minutes, with the possible exception of Al Gore. Yet who is to say that a tiny twitch of the left eyebrow isn't a secret signal that the payroll number exceeded expectations?
Obviously, then, there is an element of trust in the arrangement. Trust, plus the realization that anyone who was caught cheating would be severely punished. "Their credential would be revoked forever," and potentially their organization's as well, says Kaplan.
It so happens that the Labor Department says it has suspended two people from the lockup in the past two years for unspecified infractions. It did not say if they were from print or broadcast. Disclosure: Bloomberg News participates in the "lockup" for both print and broadcast and is opposing the department's changes—which have nothing to do with the muting of TV reporters.
Before it's here, it's on the Bloomberg Terminal.
LEARN MORE