Jamie Moyer, Oldest Winning Pitcher, By the Numbers
By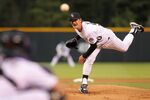 Last night in Denver, Jamie Moyer of the Colorado Rockies became the oldest pitcher ever to record a win in the major leagues. At 49 years and 150 days old, Moyer bested San Diego Padres starter Anthony Bass without ever topping 80 miles per hour on the radar gun. Bass, who is less than half Moyer's age, was throwing 95. Moyer first took the mound in a big-league game on June 16, 1986. He won that one too, for the Chicago Cubs over the Philadelphia Phillies. He was paid $60,000 that year. The Colorado Rockies did not exist; President Ronald Reagan was pledging support to Nicaraguan freedom fighters in the battle against Soviet-backed communists; Kevin McHale of the world champion Boston Celtics appeared on the cover of Sports Illustrated; Patti LaBelle's synth-heavy duet with Michael McDonald, On My Own, ruled the pop charts; and shares in Apple cost $4.48.
Here, courtesy of sports information leader STATS, is a breakdown of Moyer's 26-year tenure.
150 current major-league players—one-fifth of the entire league—were born since his debut.
Moyer has:
Thrown 58,746 pitches, since they began counting in 1988. That's one pitch a minute for 40 days.
Pitched to 1,419 different players. That's 8 percent of all players since 1876.
Been teammates with 631 players.
Hit 108 players with pitches, beginning with Juan Samuel (born 1960) and ending with Brett Pill (born 1984).
Notched 2,411 strikeouts, beginning with Glenn Wilson (born 1958) and ending with Cameron Maybin (born 1987).
Pitched in 1,992 hours of baseball games, since they began counting in 1987. That's 83 days and 10 minutes.
Before it's here, it's on the Bloomberg Terminal.
LEARN MORE