Italy Admits It Can't Balance the Budget in a Recession
By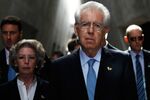 Italy's prime minister has abandoned his bel sogno—his beautiful dream—that Italy can balance its budget during a deepening recession. To some strategists, that's alarming. To others, it's an overdue acknowledgement that could actually pave the way for a more sensible policy that gets Italy back on the path to healthy economic growth.
Slow growth, not profligate public spending, is the No. 1 problem in Italy. And in Spain, where a recession is causing a wave of loan delinquencies and defaults. Investors are bailing out of Spanish government bonds for fear the government will be overstretched trying to save Spanish banks.
Italian Prime Minister Mario Monti is the technocrat who is supposed to get Italy's finances back on the straight and narrow after the mess left by his bawdy predecessor, Silvio Berlusconi. After meeting in Rome today, his cabinet announced that it's now projecting the federal budget to show a deficit equal to 0.5 percent of gross domestic product in 2013, worse than a previous forecast of a 0.1 percent deficit. Prices of Italian bonds fell on the news.
Germans, who have extended billions of euros in loans to Southern Europe, have been lecturing Italy and Spain to tighten their belts. "Putting too much weight on short-term, demand-side risks misjudges the root cause of the current crisis, namely a profound loss of confidence in markets," Bundesbank board member Andreas Dombret said in a statement reported by Bloomberg News yesterday.
Here's the problem, though: As U.S. budget makers can attest, recessions virtually always cause budget deficits because tax receipts fall at the same time that automatic spending programs such as unemployment insurance benefits increase. Italy's cabinet is predict the economy will shrink 1.2 percent this year, before returning to growth of 0.5 percent in 2013. But it could well turn out worse. Cutting spending in an attempt to balance the budget can be self-defeating by causing the recession to deepen.
If Mario Monti can persuade investors to be patient—and let Italy run modest deficits while it gets its economy growing again—this latest slippage in the budget-balancing target may eventually come to be seen as a positive development.
Before it's here, it's on the Bloomberg Terminal.
LEARN MORE